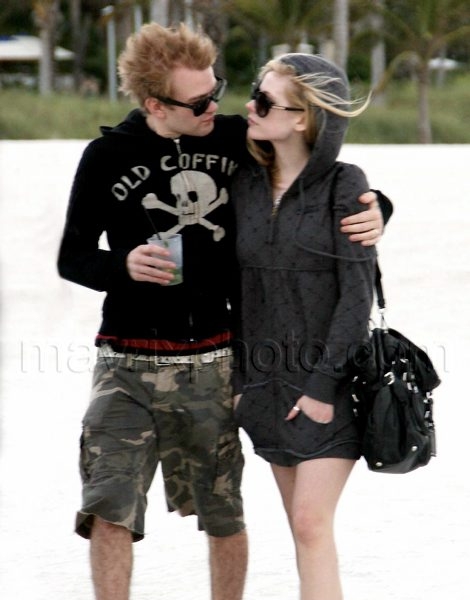 Avril Lavigne Needs a New Sk8er Boi
He's just a sk8er boi, she said see ya later boy…
I am both embarrassed and ashamed that I know the lyrics to that song — blame it on the "Run Fatty, Run" playlist on my iPod that I listen to at the gym. Anyway, Avril is back on the market, because she peaced out of her 3-year marriage to Sum 41 frontman Deryck Whibley. People are saying that it was Avril's idea, but I have no clue why that could be. Didn't he seem like the stable, normal one?
At this point in time, I'd like to bring your attention to Exhibit A: Photographic evidence that Avril voluntarily hung out with Brandon Davis (at least two nights in a row!). If you ask me, that's more than enough reason for Deryck to run the other way screaming. If somebody I knew was partying with Brandon Davis, I'd make them take a bleach bath before coming anywhere near me again (and even then I'd be super sketched out). Exhibit B from the "I'm not at all surprised" department: Deryck and Avril were fighting like cats and dogs for a while there.
Apparently, Deryck has left the house they shared. How she was able to finagle a situation where she got to keep the house is beyond me, but good for her (I guess?). Get after that money, sister! Get it and never let go!