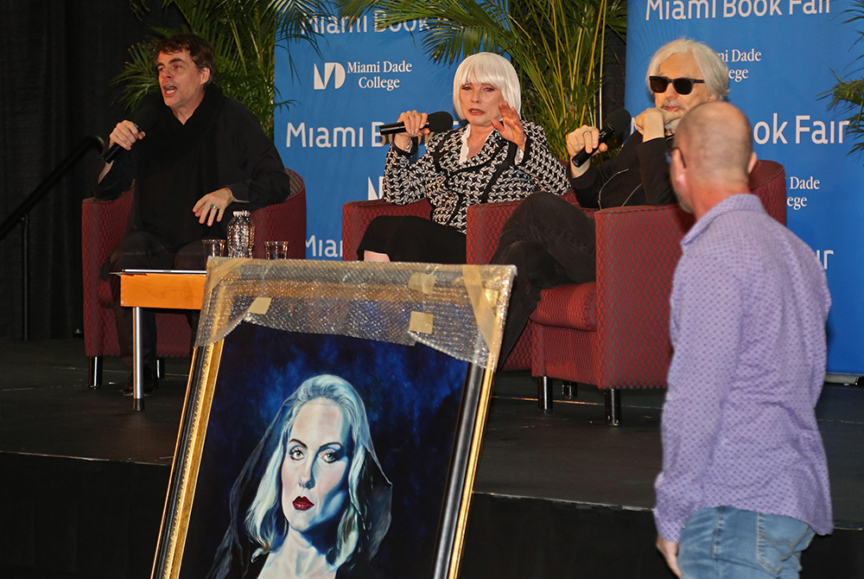 Debbie Harry Signs Book At Miami Book Fair
Debbie Harry Signs Book at the Miami Book Fair, Miami Dade College Wolfson Campus with Chris Stein and Rob Roth. Harry's younger sister, Martha Harry Ravello showed her support in the audience, 20th November 2019.
Harry was immortalized by Andy Warhol in 1980, who produced a number of artworks of her image from a single photoshoot at the Factory. The artist created a small series of four acrylic and silkscreen ink on canvas portraits of the star in different colors, as well as Polaroids and a small number of rare silver gelatin prints from the shoot. Stein was also present that day to capture Warhol photographing Harry in a series of his own photographs, exhibited in 2013 in London.
Her collaboration and friendship with Warhol continued and she was his first guest on the MTV show Andy Warhol's Fifteen Minutes. The first episode opened with Harry announcing the theme: "Sex, Vegetables, Brothers and Sisters".
Harry said of her relationship with Warhol, "I think the best thing [Andy Warhol] taught me was always to be open to new things, new music, new style, new bands, new technology and just go with it. Never get mired in the past and always accept new things whatever age you are".
In her book Harry describes, in no particular order, dropping acid with Timothy Leary; staring down the barrel of Phil Spector's loaded gun; bringing heroin to Stein, Blondie's bassist, in the hospital; and bringing coke backstage to David Bowie.
She is stalked in New Jersey by a crazed, gun-toting ex-boyfriend – a story she'd channel into Blondie's hit "One Way or Another," from their breakthrough album "Parallel Lines" – and escapes an attempted kidnapping by a man she believed was serial killer Ted Bundy.
Much more about her life can be discovered when Debbie Harry Signs Book atThe Miami Book Fair.
All licensing enquiries to sales@mavrixphoto.com