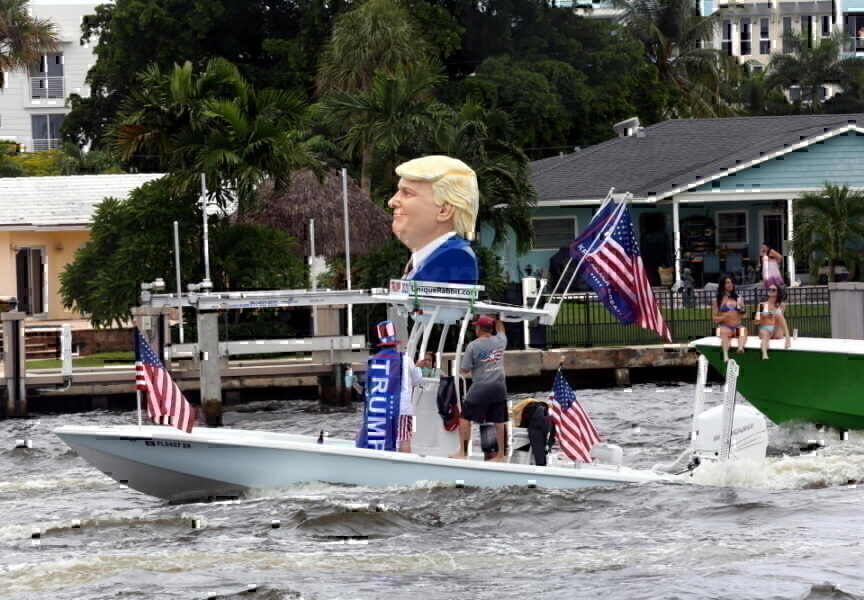 Trump Fort Lauderdale Flotilla 2020
Donald Trump fans and South Florida photo-journalists were out in their boats in droves during torrential rain to show their support during today's Trump Fort Lauderdale Flotilla along the Intracoastal Waterways that began at Fort Lauderdale Sunrise Bay and ended at Boca Lake in Boca Raton with some sunshine.
The Avid supporters from 'Boaters For Trump South Florida' proudly Promoted the COVID stricken President for his 2020 Re-election during today's Trump Fort Lauderdale Flotilla. Jim Norton (US House of Rep), Catherine McBreen (Supervisor Board of Elections), Brian Norton (State Senator)and Carla Spalding (running against Debbie Wasserman-Schultz, US House of Representatives) who are all running for office were also seen on one of the lead boats. Ft Lauderdale, FL.
The large boat parades — which began organically among MAGA devotees in South Florida and spread to Florida's, Arizona's South Carolina's Charleston Harbor and Southern California's Newport Harbor during Memorial Day weekend — quickly caught the notice of the president and his campaign. Now, the campaign is encouraging the flotillas and utilizing its robust data operation to organize and excite a demographic that turns out to be heavily represented in some of the most closely contested swing states from the Sun Belt to the Great Lakes.
"The boat parades are essentially recreating Trump rallies, but with social distancing built in," said John Sellek, a Michigan Republican consultant, adding that the free spirit of recreational boating jibes with the president's messaging.
"I can see what the Trump campaign sees," he said. "Look at the union, working-class voter in Michigan, whose goal is to have a boat, like a lot of people. Those folks are out there in force boating and fishing and having a great time as much as they can, and they're the ones who crossed over and voted for Trump in 2016. So these boat rallies and parades make a lot of sense."
All licensing enquiries to sales@mavrixphoto.com