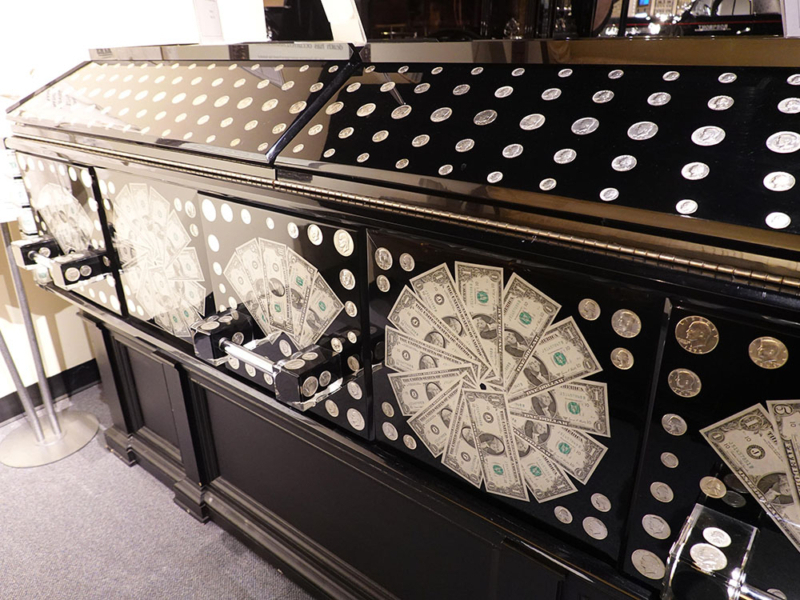 Crazy Caskets And Historic Hearses In Houston
The National Museum of Funeral History in Houston, Texas contains a collection of Crazy Caskets Historic Hearses, plus artifacts and relics that aim to "educate the public and preserve the heritage of funereal care." The 35,000-square-foot museum opened in 1992 and is home to "the country's largest collection of funeral service artifacts and features renowned exhibits on one of man's oldest cultural customs."
For its hallmark exhibit, Celebrating the Lives and Deaths of the Popes, the Museum collaborated with the Vatican to highlight the ceremonies surrounding papal funerals. Other exhibits show Victorian mourning items, Egyptian embalming processes and the beginnings of cremation technology.
The museum with Crazy Caskets Historic Hearses also showcases it's collection of bizarre coffins, including family size, glass, money encrusted, and the Gold Colored And Cadillac Winged Coffin of George Barris, famous as the designer of The Munsters Koach.
The Museum has grown over the decades through generous donations and acquisitions of significant items that document the history of the industry. With over 30,500 sq. ft. of exhibit space today, the Museum has become the largest educational center on funerary customs in the United States and perhaps the world. Thousands of visitors each year explore the Museum's 16 permanent exhibits on a broad spectrum of funeral-related topics ranging from the ancient embalming rituals of Egypt to remembering celebrities and public figures. Currently, the Museum is planning additional exhibits, as well as the expansion of its current exhibits and programs.
In 2005, the Museum began its collaboration with the Vatican for what has become its hallmark exhibit, Celebrating the Lives and Deaths of the Popes. A collection of authentic items were acquired by the Museum for display, including the original uniforms worn by The Swiss Guard (responsible for the Pope's personal security) and vestments from Gammarelli's, the tailor shop in Rome, which has clothed the last seven Popes. A 10,000-square-foot expansion of the Museum took place to accommodate the 5,000-square-foot exhibit, which opened in 2008, featuring premium sound and lighting, three-dimensional scenes and audio/visual multi-media presentations providing visitors with a true sense of attending a Pope's funeral and the sacred traditions that are observed when a pope dies.
Check out the gallery below…
Best Caribbean Photo Journalist