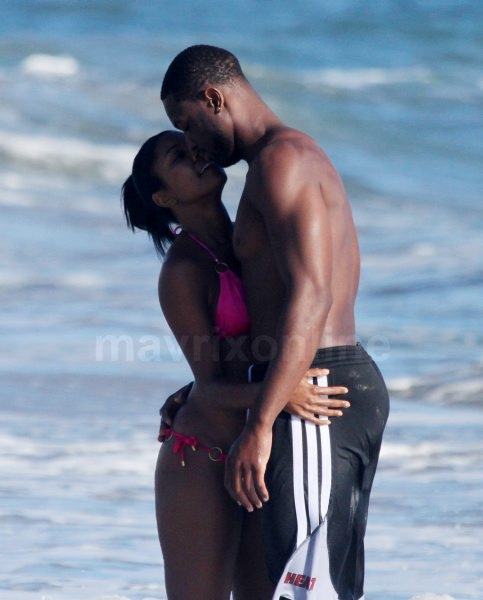 Gabrielle Union & Dwayne Wade Show Love in the Surf
Actress Gabrielle Union and Basketball beau Dwayne Wade look very much in love as they hug and play around and have fun together in the Californian surf.
Showing off their amazing figures the touchy feely couple were seen racing each other on the shoreline when Gabrielle suffered a wardrobe malfunction with her bikini bottom coming undone. Good heartedly laughing at the situation, Gabrielle sat down quickly in the surf to reposition her bikini bottoms.
It was recently reported that Gabrielle and Dwayne took a break from their relationship during the NBA finals earlier this year but kept it quiet. Yesterday during an interview on "The Tonight Show" with Jay Leno, Wade admitted that being a celebrity couple is "very hard." The Miami Heat star went on to say that this was a big year for their relationship.
With Gabrielle shooting her show 'Being Mary Jane' and Dwayne dealing with his injuries while trying to win a championship, the couple decided to take a step back for a little while, yet still showed support for each other. "At the end of the day, we came back together and said, 'Listen, we want to continue this. We want to try to continue to get better each day.' She's been with me and I've been with her all summer long. We're going strong now," Dwayne told Leno.
The couple attended his teammate LeBron James' wedding last weekend and could only say that it was a "beautiful, beautiful" ceremony and that the guest were prohibited to have their cellphones for privacy reasons.