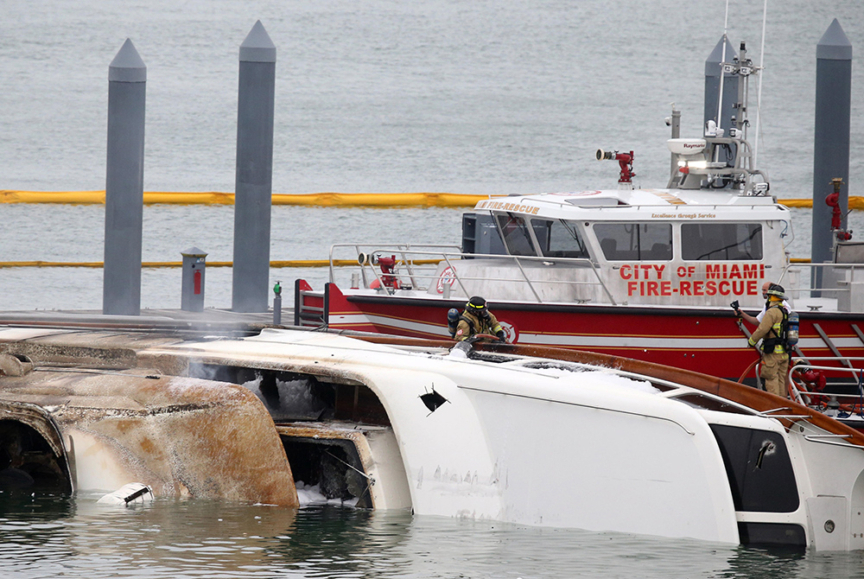 Marc Anthony Yacht Sinks In Miami Beach
Reports are that Singer Marc Anthony's $7 million yacht caught fire and capsized while docked at Watson Island Miami. The Miami Fire Rescue received a call that the The 120 foot Benetti superyacht named, 'Andiamo' was on fire around 7:30 p.m Wednesday night. It took more than 40 firefighters two hours to extinguish the blaze and the yacht was being filled with fire extinguishing foam Thursday morning as a precaution. Anthony's spokeswoman Blanca Lassalle told media that the singer was not on board when Marc Anthony Yacht Sinks and all crew are safe. No other boats were damaged in the blaze, Miami Fire Rescue said. The cause of the fire is still unknown. Miami, FL, 19th December 2019.
Marco Antonio Muñiz better known by his stage name Marc Anthony, is an American singer, songwriter, actor, record executive, television producer and philanthropist. Anthony is also the top selling tropical salsa artist of all time. The two-time Grammy Award and six-time Latin Grammy Award winner has sold more than 12 million albums worldwide. Known for his Latin salsa numbers and ballads, Anthony has won numerous awards and his achievements have been honored through various recognitions. He was the recipient of the 2009 Congressional Hispanic Caucus Institute Lifetime Achievement Award. He also received the "2009 CHCI Chair's Lifetime Achievement Award" on September 16, 2009. He holds the Guinness World Record for best-selling tropical/salsa artist and the most number-one albums on the Billboard Tropical Albums year-end charts. He is also the artist with the most number one songs on the Billboard Latin Tropical Airplay chart with 32 songs.
Anthony's parents named him after Mexican singer Marco Antonio Muñiz. Anthony grew up in East Harlem, also known as Spanish Harlem or El Barrio, so who'd have ever thought he would be in a position where Marc Anthony Yacht Sinks??
All licensing enquiries to sales@mavrixphoto.com