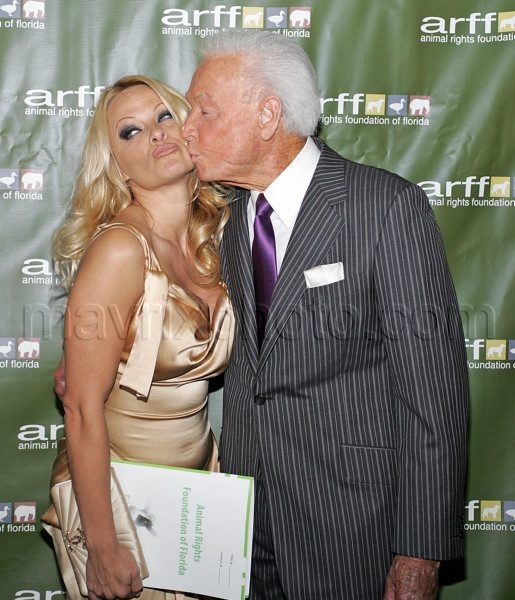 Pam Anderson Keynotes the ARFF Gala
When you think of Pamela Anderson, you don't usually think of her as the type of person to give a keynote speech at a big fancy shindig. And yet, last night that's just what she did for the Animal Rights Foundation of Florida (ARFF) 20th anniversary Gala at the Broward Convention Center in Fort Lauderdale, Florida.
She even managed to get a little love from Bob Barker while she was there!
The Baywatch babe and animal rights activist recently faxed an appeal to Gov. Crist asking him to send the great apes currently languishing in Florida's roadside zoos to accredited sanctuaries. Her plea for apes comes on the heels of the tragic chimpanzee attack in Connecticut.  Anderson was accompanied by new beau surfer Jamie Padgett (how cute is he, by the way?) and good friend Dan Matthews of PETA.   All proceeds from the event will be used to fund ARFF's humane-education program, which educates thousands of school children in Florida about veganism, companion animals and wildlife.