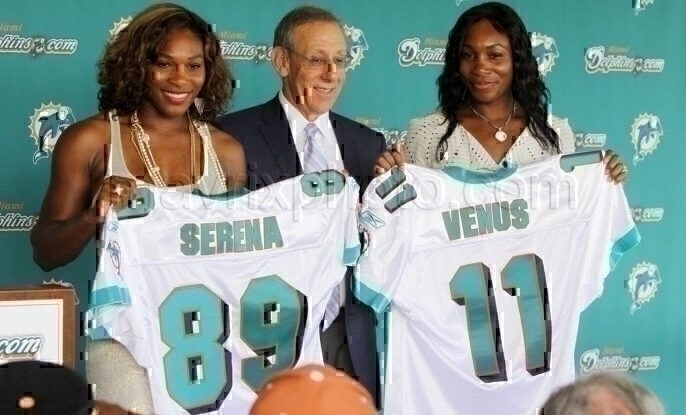 Venus and Serena Williams Own Part of the Miami Dolphins
Owner and Managing General Partner of the Miami Dolphins, Stephen M. Ross, announced today that Venus and Serena Williams, who have 18 Grand Slam singles titles combined and are residents of Palm Beach Gardens, are joining the organization as limited partners of the franchise. Do you hear that? It's the sound of the Williams $isters cashing in. Ka-CHING!!!
The Williams sisters are the first female African-Americans to hold an ownership stake in a NFL franchise and one of the few African-Americans league-wide to hold this unique distinction.   Ross said:
"We are thrilled to have Venus and Serena join the Dolphins as limited partners. They are among the most admired athletes in the world and have become global ambassadors for the game of tennis. Their addition to our ownership group further reflects our commitment to connect with aggressively and embrace the great diversity that makes South Florida a multicultural gem."
As for the ladies, here's what Venus had to say:
"I am honored to be a partner in the Miami Dolphins franchise. I admire Stephen Ross' vision for the team and I am thankful to him for allowing Serena and I to be part of Miami Dolphins history."
And Serena:
"I am so excited to be part of such a renowned organization. Having spent so much of my childhood in the area, being involved with a staple of Miami culture is a huge honor. We look forward to many championships and much success together with the Miami Dolphins."
This all kind of took me by surprise, but these girls know their sports and they know how to market themselves, so I'm sure their new partnership with the Dolphins will be a natural fit. This seems like a pretty safe business venture for them, and I'm sure they'll make boatloads of money off of their involvement.