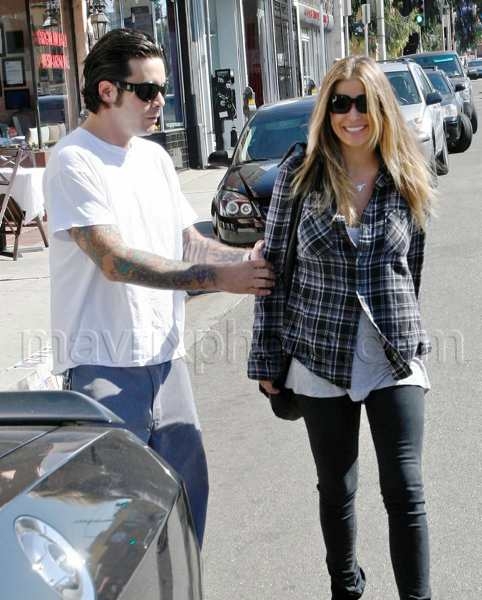 Carmen Electra and Rob Patterson Shop on Melrose
Carmen Electra and her boyfriend fiance, Korn guitarist Rob Patterson, went shopping on Melrose yesterday. I couldn't remember offhand whether or not they were engaged (thought I remembered a black diamond engagement ring, but I wasn't sure), so I Wikipedia'd Carmen and found out all kinds of things! Here are some of her romantic conquests that you may have forgotten (or may never have known):
She started out dating Prince. No, not a prince. The

artist formerly known as

Prince
She then dated B-Real from Cypress Hill, who confirmed on the Howard Stern Show that he paid for her breast implants
She was married to Dennis Rodman from 1998-1999
After Dennis, she rebounded with Pam Anderson's ex, Tommy Lee
When she was finished with Tommy Lee, she married Dave Navarro. They even had an MTV reality show, 'Til Death Do Us Part: Carmen and Dave. That marriage lasted from late 2003 until late 2006…not exactly death, but close enough
In 2006, Carmen was quoted as saying that she had "a little girl crush" on Joan Jett. In 2007, lots of sources linked the two romantically, but Carmen always insisted that they were "just friends". They were the original Lindsay and Sam!!!
Now she's engaged to Rob Patterson, and has an 'R' tattooed behind her ear
Whew! Now that we've taken a stroll through Carmen's memory lane, I'm ready for another cup of coffee.