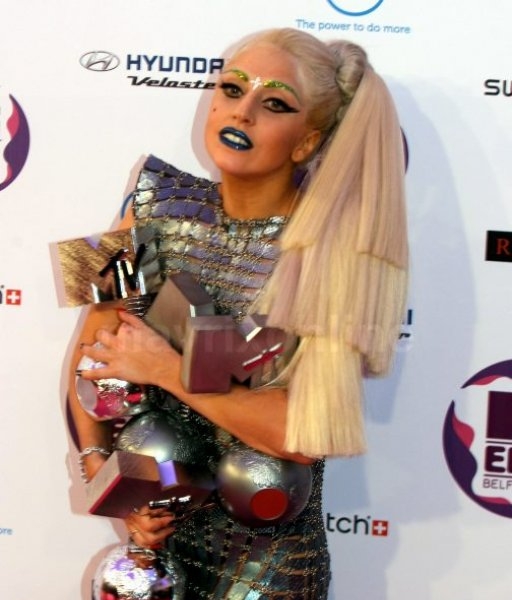 Lady Gaga Wears Forhead Cross, Blue Lipstick At 2011 MTV European Music Awards
Lady Gaga won big at the 2011 MTV European Music Awards taking home multiple awards for her musical achievements held at the Odyssey Arena in Belfast, Northern Ireland.
As suspected, Gaga's outfit was the most anticipated part of her presence at the awards show.
Mother monster channeled a futuristic Cleopatra to give her more confidence to grace the 2011 MTV EMA stage and accept the many accolades for her incredible work as a musician.
Lady Gaga wore her hair in a multi-tiered side ponytail that resembled the hairdo Cleopatra was most famous for. Additionally, she wore a dress made of what appeared to be metal bits held together like a chain link fence.
But it was her makeup that got the most attention, she wore green sparkly eyebrows, blue lipstick and a bright silver cross on her forehead.
Regardless of what she wears, Gaga will continue to get a massive amount of attention for her artistry and her work as a social activist.