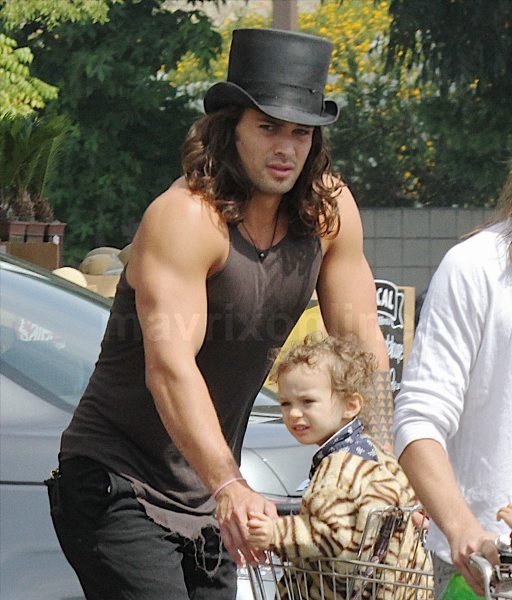 Conan 3D's Jason Momoa
Conan the Barbarian 3D star Jason Momoa hit up Whole Foods yesterday while wearing a top hat because…well, because why not? When you have muscles like that, you can wear whatever the hell you want to and nobody will say anything about it. Least of all me. In fact, I'm sort of into the shabby formal look he's working — it takes a real man to pull off a top hat, sleeveless shirt and shoulder-length hair.
Plus, he brought his kid (with Lisa Bonet) with him, which somehow adds to his hotness. His name is Nakoa-Wolf Manakauapo Namakaeha Momoa, which Bonet explained as:
"He was born on the stormeist, rainy night. so Nakoa (warrior)…Mana (strength/spirit) Kaua (rain) po (dark). The name was always going to be Nakoa-Wolf, but Jason did the research on first middle name, 2nd middle name as you know is Jason's."
It doesn't matter what or who that baby was named after — if he grows up to look like his dad, nobody will ever make fun of his name.