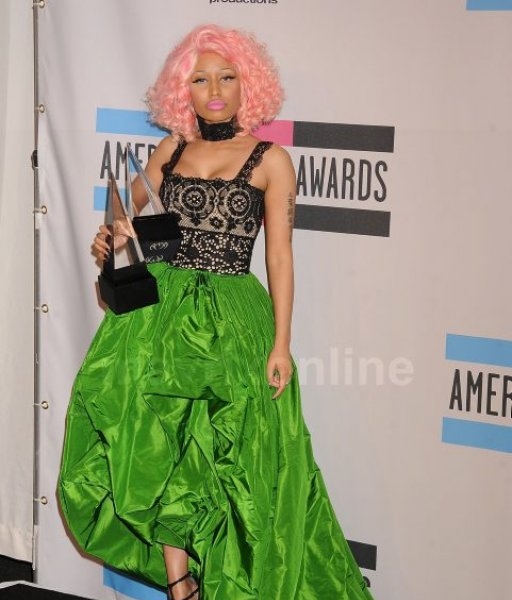 Nicki Minaj Backstage Demands For Super Bowl Performance With Madonna
It takes a lot to be "Super Bass" singer Nicki Minaj and reportedly, keeping her happy backstage is just as intricate as the rapper's incredibly far-out sense of style.
This weekend Nicki will be performing at the Big Game, alongside pop powerhouse, the iconic Madonna but it's gonna take more than your typical tailgating food to get Nicki ready to go on stage.
Backstage at the Super Bowl, Nicki reportedly needs her favorite color pink and lots of it including:
2 dozen pink or white roses and 3 large Baked Goods scented candles
Hot Tea setup with lemon wedges, sugar and honey. Must include teacups, saucers, spoons and napkins and decaffeinated Lipton Tea bags
2 packs Halls lemon honey drops and 3 packs of Thayers Slippery Elm lozenges (three different flavors)
Contact lenses solution with case, 2 Space Heaters – VERY IMPORTANT – and a cool mist humidifier
3 packs of gum in 3 different flavours
24 bottles of Dasani Water (12 room temperature,12 on ice)
12 cans of Red Bull (6 room temp, 6 iced)
12 bottles of Martinelli's Apple Juice (6 room temp, 6 iced)
24 bottles of Snapple, 12 must be Lemon Ice Tea, 12 other assorted flavours
Singer's Saving Grace throat spray
2 large bottles of assorted fruit juices and one gallon of Simply Lemonade – please supply one small tub of clean ice and cups for drinks.
Egg Whites (scrambled hard), Turkey Bacon (fried hard), white toast (grape and strawberry jelly/jam). Belgian Waffles (syrup, powdered sugar, whipped cream, butter and strawberries on side) Enough to serve 4 people
1 Large Fruit platter with side of mango and 1 Large Cheese platter
3 twelve piece buckets of fried chicken spicy – no thighs, lots of wings
A deli tray with turkey breast meat, grilled chicken breast, whole Wheat bread or rolls, yellow mustard and other condiments (seasoned salt, hot sauce), plates, forks, spooks, knives, napkins and straws (enough for six people)
Salad – Iceberg lettuce, sliced tomatoes, sliced cucumbers, green olives, Wishbone Light Italian dressing, Bumble Bee tuna in water, wheat or low Fat crackers
Carrots and Dip
Cranberries (dried), almonds (raw- not roasted)
One set of fine silverware/stainless steel silverware
In terms of rider demands, it seems pretty tame, so we'd like to commend our friend Nicki for keeping it real backstage this weekend at the Super Bowl.