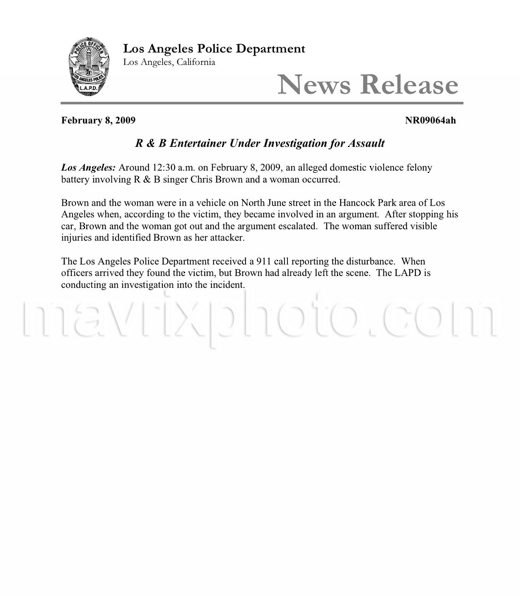 Is Rihanna A Battered Woman?
I'm not one for speculation, so here are the facts of an event that took place last night, as described in an LAPD Police report:
"Los Angeles: Around 12:30 a.m. on February 8, 2009, an alleged domestic violence felony battery involving R & B singer Chris Brown and a woman occurred. Brown and the woman were in a vehicle on North June street in the Hancock Park area of Los Angeles when, according to the victim, they became involved in an argument.  After stopping his car, Brown and the woman got out and the argument escalated.  The woman suffered visible injuries and identified Brown as her attacker. The Los Angeles Police Department received a 911 call reporting the disturbance.  When officers arrived they found the victim, but Brown had already left the scene.  The LAPD is conducting an investigation into the incident."
TMZ reported last night that a warrant was out for Chris' arrest, and he turned himself into police shortly thereafter. Both Brown and Rihanna were supposed to perform at the Grammy's last night, but canceled at the last minute. Although Rihanna was never personally named in the report, it is suspected that she's the woman in question.
If Chris did slap her around, he deserves to go to jail. Beating women is never acceptable, ever.