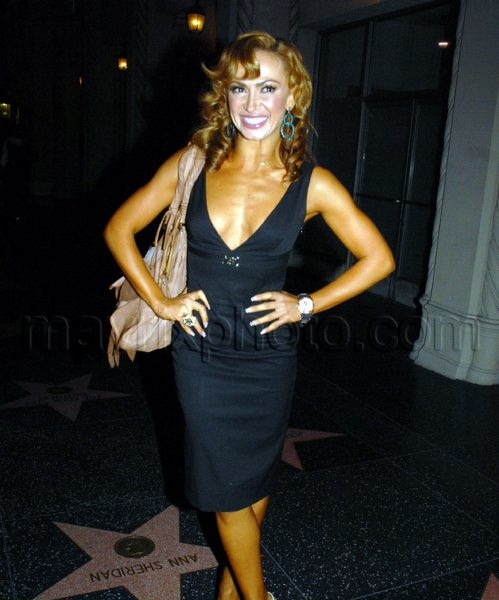 Karina Smirnoff is a Hot Commodity
Karina Smirnoff is beyond hot right now. She had that dancing gig at the Emmy's, she's the most popular dancer on Dancing with the Stars and everyone wants a piece of her. Plus, if you can forgive the fact that she's looking a little orange lately, she's absolutely gorgeous.
Last night, she left Teddy's night club in LA holding hands with some mystery dude. Looking at these pictures, I kind of wonder if she left the club wearing her best pair of beer goggles, because I've seen hotter guys in my day.
His hairline game is tight, though, and he looks like he'd be foreign (and let's be honest: accents make guys at least 87% hotter). Don't ask me how I can tell he's foreign, I just can. It's like my Spidey sense or something, but I can pick foreigners out of a crowd without having to hear them speak.
Of course, Foreign Fred (because I have to name him something, right?) isn't the only one with his eye on Karina. Aaron Carter, her partner on DWTS, also thinks she's something special. During a recent radio interview, he said:
"She's beautiful, but I've got to keep it professional. I'm sorry, but I'm not that guy. I don't got that kind of time."
BAH HAHAHAHA! Am I the only one who thinks that's the funniest thing I've heard all day?! Don't "got" time for what, Aaron? What're you so busy doing these days?! Pffft, he should be so lucky!