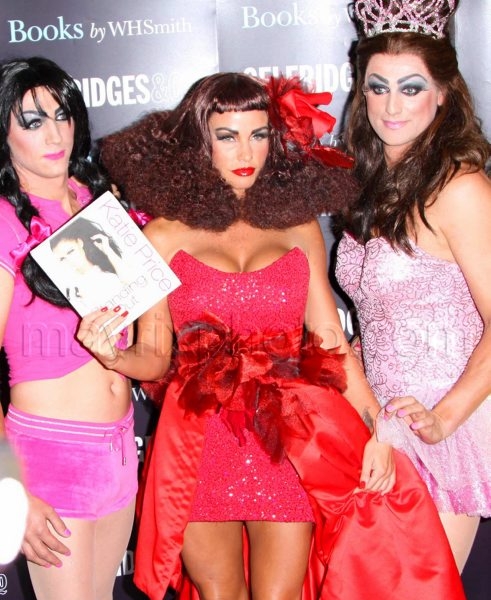 Katie Price Launches Her New Book
Katie Price (or is it Jordan? I'm not sure what the name du jour is) launched her new book, Standing Out: My Look, My Style, My Life, at Selfridge's department store in London today. Of course, since she's the glittery glamorous Katie Price, she didn't do it alone: she was  surrounded by drag queens!
One of the drag queens is her boyfriend, cage fighter Alex Reid! He got all gussied up in one of Katie's old skimpy gold costumes, along with three of Jordan's friends: riding coach Andrew Gould, brother Daniel Price and best friend Phil Turner. All the guys wore outfits that replicated well-known ones that Katie has worn in the past. Daniel's dress was a copy of the pink dress she wore for her wedding to Peter Andre, complete with tiara.
Katie Price and Peter Andre's divorce is expected to be made official today, so I can see why she went all out with this event. Enjoy your newfound singlehood, Katie!