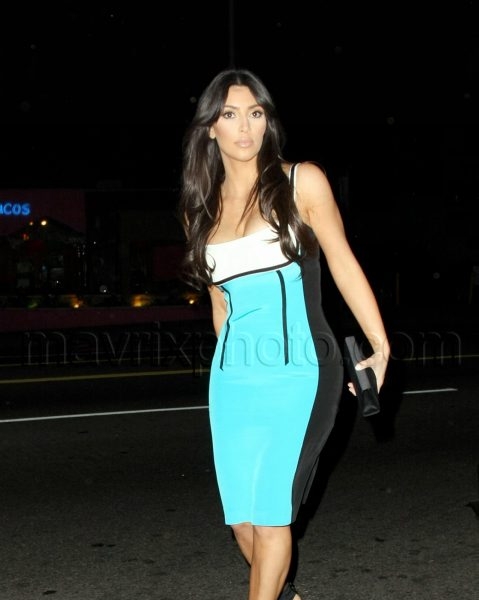 Kim Kardashian and Nicky Hilton Support CharRo
Kim Kardashian and Nicky Hilton attended the launch party at the Chateau Marmont for Charlotte Ronson's fashion line I Heart Ronson collection the other night. While that isn't too interesting in and of itself, OK! Magazine is reporting that there was some major drama at the event.
Apparently, SamRo and CharRo had Lindsay banned fro the event. The doormen were under strict instructions to make sure Lindsay got nowhere near the event. Here's what OK! Magazine says went down:
The party officially ended at 11pm on Friday, but an hour later, Sam was still spinning records inside, while Charlotte, their brother Mark — whose band played an hour-long set at the event — and their mom, Ann Dexter Jones partied on.

But just as expected, Linds still showed up, only to be "restrained from coming in by five security guards," according to an onlooker. "Lindsay knew she was unwanted, but came anyway, to no avail," said another source.

While LiLo couldn't get beyond the guardians at the gate, other celebs, including Nicole Richie, Molly Sims, Sting and Jewel, had no problem getting into the event. Even Paris Hilton was welcome. The celebutante arrived around 10:15pm on the arm of her boy-toy Doug Reinhardt. "She really seemed to be glowing!" one partygoer tells OK!.

It was a second night in row that Lindsay had displayed some odd and seemingly unwelcome behaviour. On April 2, also in L.A., she suddenly popped up onstage in the middle of pal Lily Allen's show — only to be all but ignored by the British pop star.
CRAZINESS! And pretty freaking hilarious, too. Now, Perez is reporting that Lindsay has accused SamRo of cheating and drug use…via her Twitter page! I have a feeling this is only the beginning of one of the greatest Hollywood breakups, like, ever. Charlie Sheen and Denise Richards have nothing on these two!