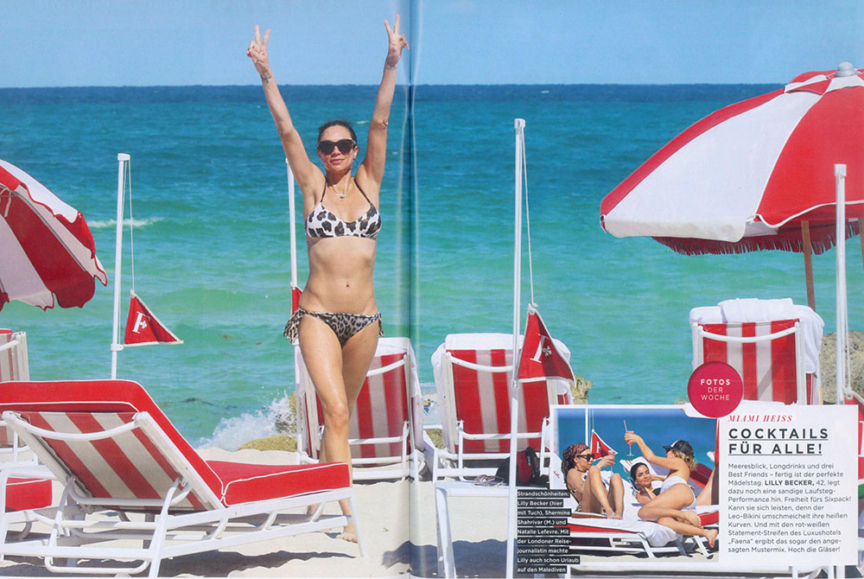 Lilly Becker Gala Magazine Double Page
Lilly Becker Gala Magazine Double Page Spread shows Sharlely Becker spending a day on the beach with son Amadeus and and her German model friend Shermine Shahrivar. She seemed in great spirits although Miami Beach was her old stomping ground with ex husband Boris Becker.
The crew hit the waves, enjoyed Miami Beach and Sharlely hammed it up for the photographers with a sexy peace sign. German publishing giant Gala Magazine picked up our Lilly Becker Gala Magazine photos for a double page spread.
Her recently estranged husband Boris Becker is the German former world No.1 professional tennis player. He was successful from the start of his career, winning the first of his six major singles titles at age 17. His Grand Slam singles titles included three Wimbledons, two Australian Opens and one US Open. He also won three year-end championships, 13 Masters Series titles and an Olympic gold medal in doubles. In 1989, he was voted the Player of the Year by both the ATP and the ITF.
Sharlely Becker was born in Rotterdam, Holland, she was raised by her grandparents, and has a rich cultural background; her mother from Suriname and her father from Germany.
Leaving home at the age of 18, Sharlely travelled the world to pursue her career in modelling. She found herself living in Italy, London and Israel working for a range of companies including Ricardo Gay Modelling agency and Oasis casino. After returning home for a year, at the age of 22 she moved to the United States of America where she travelled between Miami and New York, working as a model. This is where she met her husband, Boris Becker.
​
All licensing enquiries to sales@mavrixphoto.com