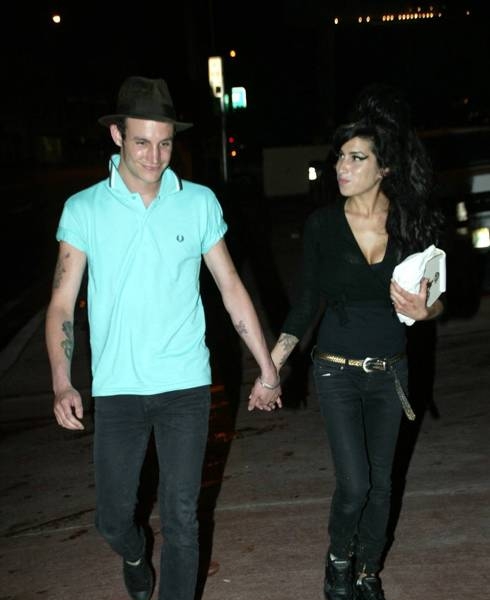 Looks Like Blaaake and Amy Winehouse Are Over!
It is being reported by everyone and their mother that Blake Fielder-Civil, Amy Winehouse's incarcerated husband, has ordered his lawyer to start divorce proceedings. So, why's he filing for divorce?
Is it because he's (allegedly) an embarrassing excuse for a man?
Is it because he (reportedly) can't stay away from drugs?
Is it because he's spent the majority of their marriage in jail?
Is it because of that trollop of a woman he was (rumored to be) seeing on the side?
Nope, none of those reasons were listed. Instead, he's filing for divorce because of Amy's infidelity. Amy, who now says she is clean and sober, has been photographed with a 21-year-old stud while vacationing in the Caribbean. Amy has been quoted as saying that she has "forgotten I'm even married," and claimed that their "whole marriage was based on doing drugs." Blake has been largely credited for the singer's addiction.
Obviously, Blaaake is digging for gold like he's living in California during the 1850s (woo hoo for a random historical reference, right?). Amy is worth £10 million, which in American dollars works out to…hang on one second…carry the two…A HELL OF A LOT OF MONEY. Also, they don't seem to have a prenup. I guess that settles this question, doesn't it?
I hope she gives all of her money to her dad tomorrow, then gets on an allowance (Britney-style). That way, she technically won't have any money for him to go after. Simple, yet brilliant. I think that I'm totally wasting my time with this blogging gig. Instead, I should pack up my laptop and become a financial consultant to the rich and famous!