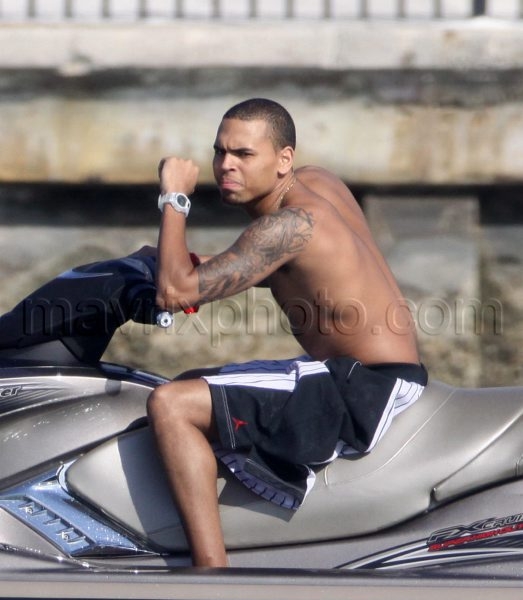 MavrixOnline Exclusive: Chris Brown and Rihanna
Chris Brown was all smiles and enjoying himself on a jetski after being reunited with girlfriend Rihanna at P. Diddy's $20 million dollar Star Island mansion the previous night. The reconciliation comes just two weeks after the alleged domestic violence incident between Rihanna and Chris that left Rihanna with cuts and bruises to her face and body.
The tattooed singer spent the day partying at P. Diddy's pad with an entourage of girls and guys including one of Rihanna and Jay Z's bodyguards. Brown enjoyed himself on a jetski with a friend followed closely by security in a boat in the bay of Miami before taking the party back inside where they lounged by the pool. Brown looked like he didn't have a care in the world.
You know, if you've recently been all over the news for smacking up your girlfriend, maybe you shouldn't let yourself be photographed looking all mean. I'm just sayin', these kinds of pictures probably aren't going to get his Got Milk? ad campaign back.
This is all way depressing…I just keep telling myself that there's a special place for guys to go that beat up women.