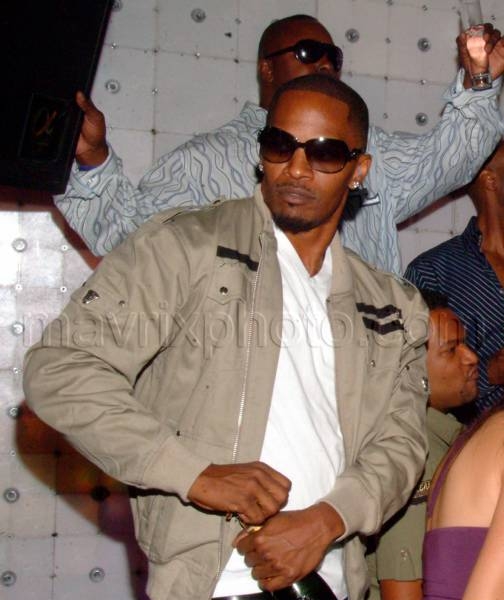 MavrixOnline Exclusive: Jamie Foxx
As it turns out, Solange wasn't the only celebrity at Karu & Y last night. Jamie Foxx was there too, and we got exclusive pictures of what was going on at the Day One party.
I see that Jamie is about to pop a bottle of champagne in these pictures. After the New Year's Eve that I had, I've decided to swear off all things bubbly. I can't even look at a can of Diet Coke the same way any more. I guess that's what I get for going the bargain route and buying the stuff that costs $8.99 a bottle. That's the last time I'll ever be cheap with the booze.
Under normal circumstances, I'm not a big fan of Jamie Foxx. I think it has something to do with the double X at the end of his last name, but I'm not sure. I mean, why not go all the way and be Jamie Foxxx? Whatev. He looked pretty decent last night, though. His facial hair game is tight and I really like those jeans. Even though I'm pretty sure those sunglasses were meant for a woman to wear (and he has them on inside the club), I'm willing to forgive and forget.
Maybe 2009 will be the year that Jamie Foxx wins me over?