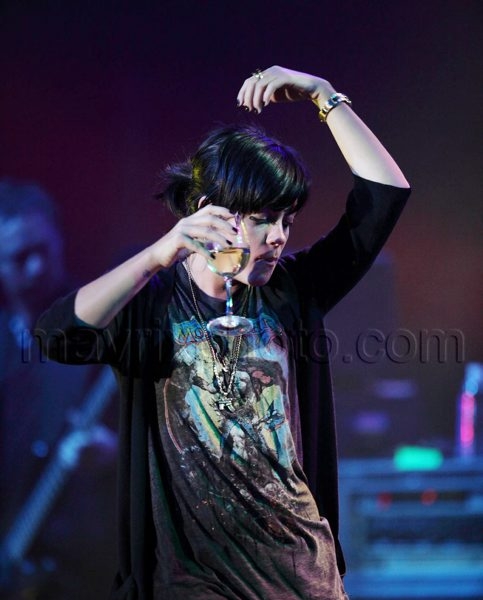 MavrixOnline Exclusive: Lily Allen Live!
Lily Allen performed yesterday at the Atlantis Theatre as part of Z100's Party Plane with OP at Atlantis.  Allen sang hits from her new album and enjoyed a glass of wine and a cigarette onstage.  She is currently working hard to promote her new album in the USA and has admitted she is desperate for her new record 'It's Not Me, It's You' to top the US album charts and has asked fans to make sure it moves up from its current number two slot to make number one.  Under the title 'HELP', Lily recently wrote on her MySpace blog,
"I've never had a No.1 album in England, never mind the US, and all of this is a bit crazy. I could well be up for No.1 here, which makes me want to cry a bit. I've never begged you to buy from me, ever, but I am now. This will be the only time ever in my life that this could happen for me. Help me get to No.1, go to iTunes and download the album – you're the only hope I've got, guys. I'll love you forever."
I loves me some Lily Allen, so I plan on buying a half dozen copies to give to my nearest and dearest.