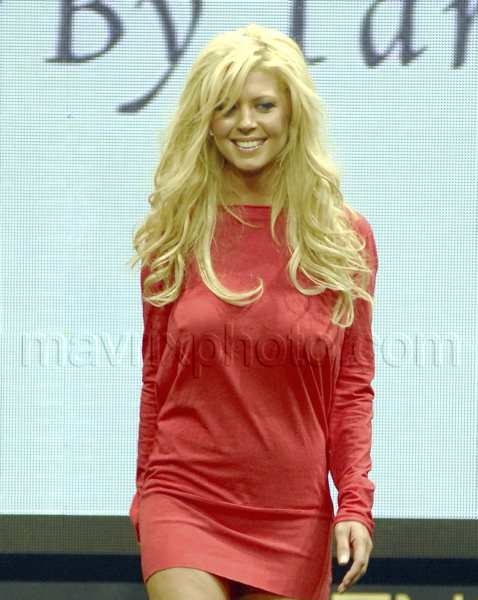 Tara Reid's Fashion Showcase
Tara Reid showcased her new Mantra bikini line yesterday at the Athens Xclusive Designers Week Fashion Show, and the line is about what you'd expect from her. The idea is that you wear different colors depending on what it is that you're looking for, though I'm not entirely convinced that she didn't pick the color/meaning combos fairly arbitrarily. She says:
"It's about putting into the universe what you want in life, Red means love, pink is friendship, green is lucky, black is protection. You're gonna have a story when you wear this bikini or when you put this dress on, You'll either get love or meet a new friend or you might meet a guy."
I guess I'll have to take her word for it, although the bikini on the far left is pretty effin' sweet. (Seriously, though…where'd she find the models? The tranny factory? The one in the red hoodie and the one on the far right are going to haunt my nightmares for weeks.)
Tara, on the other hand, looks absolutely drop-dead gorgeous. Her hair is big and awesome, just the way I like it. Plus, the dress that she's wearing is perfect on her (she designed it, I'm sure). The color is fantastic, the shape of it is very flattering for her and she looks so incredibly happy, you can't help but be happy for her. Maybe there's something to the Mantra color scheme after all!
I'm a pretty big fan of Tara, and this just goes to reaffirm how talented she really is. Let's hope we see more of her Mantra in seasons to come!