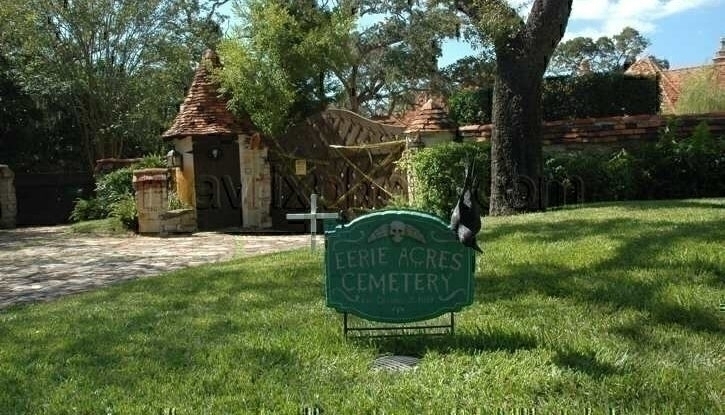 The Hogans Catch the Halloween Spirit
Yesterday I went to Sam's Club and saw that they had several huge Christmas trees on display. This can only mean one thing…Halloween is right around the corner! Linda Hogan decorated her house for the holiday, and the place looks pretty spiffy.
Here's the lowdown on what's going on with her and Hulk: they're currently duking it out in pretty nasty divorce proceedings. One of their old friends, radio host Bubba the Love Sponge, has taken Hulk's side. Apparently, Linda got back at him by putting up some Bubba-themed Halloween decorations (which have since been taken down). Bubba's fans (they call themselves the Bubba Army) decided to get back by sneaking a tombstone on her property, which can be seen in one of the thumbnails. In case your eyes are bad, it reads:
"R.I.P.- Divorced her spouse and took her house. Never had a job Boy what a slob. Took all hulks cash Died in a clown car crash. BUBBA ARMY"
I'm guessing the Bubba Army aren't too good with the grammar, but the rhyming is pretty solid.
In other Hogan news, Nick gets out of jail tomorrow! Expect to see lots of photos and a statement about how he's ready to put this all behind him and turn his life around. As always, I'll post as soon as it all goes down.