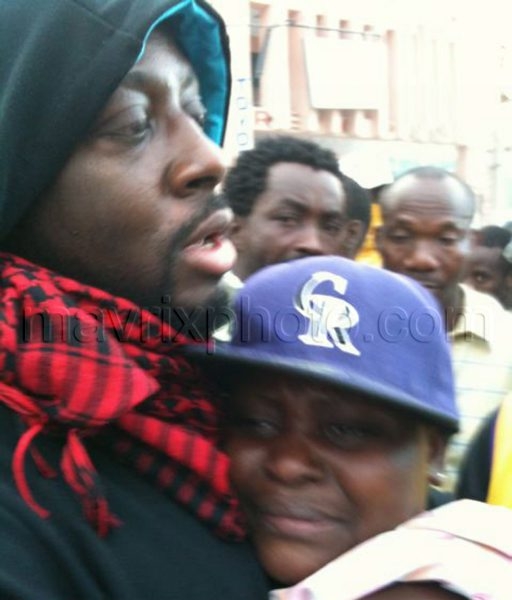 Wyclef Jean Visits Haiti
Wyclef Jean did what he could today to help the victims of the Haitian earthquake in devastated Port-au-Prince. A native of Haiti, Wyclef's "Give on the Go" text campaign has raised over $2 million for victims in Haiti and is set to continue its $1 million-per-day goal for survivor funding.
Many of these people are now homeless, and they have little to no access to clean drinking water or food. The word "tragic" doesn't encompass the death and destruction caused by the earthquake. In fact, there are no words.
To do your part and donate to the victims, text "Yele" to 501501 on  your mobile device for a simple, one-step text-back confirmation on how to  make the instant donation.  This process is by far the easiest and  most immediate way to donate, surpassing check and credit card donation  methods.
Give On The  Go, one of the primary application service providers authorized by the  Mobile Giving Foundation, is the exclusive national mobile  donations partner for Wyclef Jean's "Yele Haiti" foundation as part of its  drive to raise monetary relief by text for the disaster in Haiti.  The  company is providing the back-end SMS technology that enables mobile users to  give an automatic $5 donation to the charity for those suffering from the  massive earthquake that devastated Haiti on Tuesday this week.
"We felt it was important for our company to act now and  give a call to action for those wanting to help families and loved ones in  Haiti," says Matt McKenna, president of Red Fish Media located in Miami Beach.   "100% of the donations that are made are given directly to the charity  and our goal is to raise $1 million per day for the sufferers of this  catastrophe. We are delighted to be chosen by Wyclef as the exclusive mobile  donations provider for the Yele Haiti foundation."
The Give On  The Go campaign went live at 6:00 p.m. on Tuesday, January 12th and continues to receive hundreds of thousands of dollars in donations.  Users are billed for their  donation through their own cell phone bill as part of an easy, one-step  transaction.
According to the Associated Press, up to 3 million  people in the impoverished country may have been affected by the  quake.
Images Courtesy of: Give On The Go/Red Fish Media