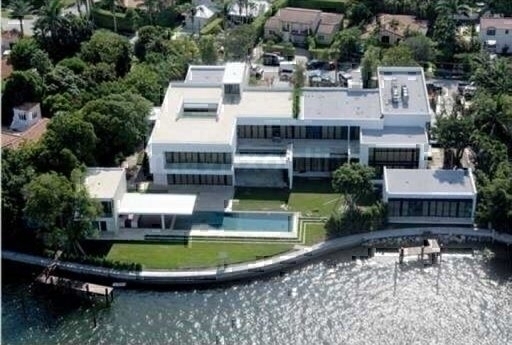 A Rod List Giant Miami Waterfront Mansion
It appears that NY Yankees star Alex Rodriguez is looking to sell his Giant Miami mansion for a whopping $38 million. The amazing 20,000 square foot beachfront estate boasts 9 bedrooms and 11 bathrooms. Some luxurious features of this fabulous residence include 275 ft of water frontage, a home theatre, heated pool, gym, a rooftop deck, an elevator and a 3,000 square foot sports room complete with a batting cage.
The two-story home has 12-foot, floor-to-ceiling glass windows that provide a panoramic view of the bay and the Miami skyline. A-Rod, who has been on the disabled list since July with a broken hand, purchased the land in May 2010 for $7.4 million in which he built this multi-million dollar manse. At the time A-Rod was dating Cameron Diaz and the two were photographed in 2011 strolling around the grounds and inspecting the construction but the third basemen broke up with Diaz prior to the completion of the home.
Photos courtesy of Realtor.com