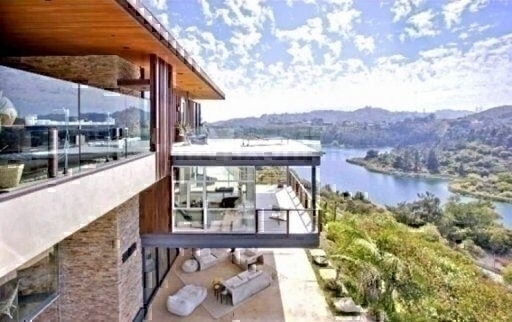 Ashton Kutcher Snatches Up Ultra Modern $10.8 Million Lake Hollywood Mansion
"Two And A Half Men" star Ashton Kutcher has a new place to call home, after purchasing the extremely sleek and modern Lake Hollywood home he's been renting for a mere $10.8 million.
Kutcher had been renting the home for $50 thousand a month since the split from his with Demi Moore, however, after teen dream Justin Bieber took an interest in the property recently, Kutcher got serious about owning the home.
The home, which was designed by the famed Mills Studio architectural firm, boasts 5 bedrooms, 8 bathrooms, and sits on half-acre loft.
With it's state-of-the-art kitchen and glass-floored bridges, floor-to-ceiling windows with a striking cantilevered room and balcony that open the home to views of the reservoir, Kutcher's new home is one of the kind, modern luxury.
Images courtesy of Realtor.com.