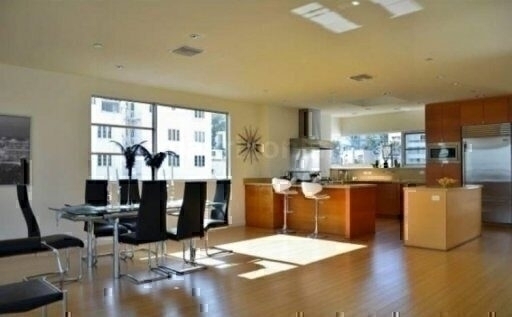 Chris Brown Selling LA Pad
Chris Brown has put his LA condo up for sale but he isn't exactly looking to cash in. He bought it in February 2011 for $1,600,000 and has listed the 3 bed, 3.5 bath, West Hollywood pad for $1,900,00. Once you take out fees, he might make a small profit but nothing to write write a song about.
I guess that's ok though as he isn't banking on the sale for his next home. He already has a house that he bought last October for $1,550,000 in the LA area and another in Virginia that he bought way back in 2007.
Question is why did the singer move so quickly from the condo in the first place? The penthouse perched close to the famed Sunset Strip is a perfect party location, and some reports said that was exactly the problem! Too many parties…. and more bizarrely it's been said, dog races in the hall way.
Well, if this was party central, there's no sign of it now. The condo is simply decorated and has an open kitchen-dining-living room, blonde bamboo floors, windows galore and a terrace and as I said, location, location, location baby.
Photos courtesy of Realtor.com