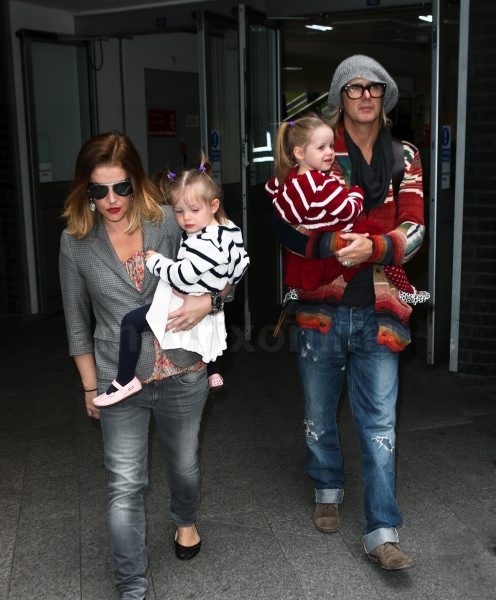 Cute Family Award Goes To….
The ever beautiful Lisa Marie Presley was spotted navigating her way through Heathrow airport with her adorable family in tow recently.
LMP looked effortlessly gorgeous despite the long-haul flight back to Blighty in skinny jeans, a grey jacket and pretty floral patterned top livened up with a dash of red lipstick.
And talking about adorable, twin daughters Harper Vivienne Ann and Finley Aaron each had a hip, one with mom and one with Dad Michael Lockwood.
On another note… I gotta say I absolutely love Lisa Marie's rendition of Dirty Laundry, if you've never had a listen I highly recommend it! And sticking with the theme of dirty laundry…. it seems Lisa Marie wants to air some, or at least set the record straight about some stories she's not a fan of living in England. Seems those rumors couldn't be further from the truth.
"For the record and once again, my family and I absolutely adore England and our life in England" she said on her official site. Well Lisa Marie, the feeling's mutual! England loves having you!