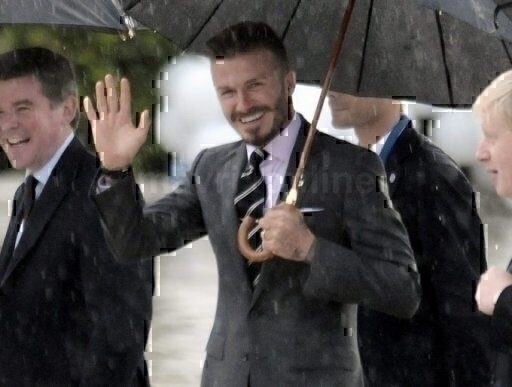 David Beckham In Athens For Olympic Flame Escort
David Beckham's spirits couldn't be dampened by the rain yesterday in Athens as he arrived as part of an escort to accompany the Olympic Flame back to England ahead of the 2012 London Olympics.
Beckham, now a star player at the Los Angeles Galaxy, is lighting a cauldron today in Southwestern England on the eve of a 70-day torch relay that will start the festivities.
The flame, a sign of unity and peace dating back to ancient times in Greece, was re-introduced as a modern day symbol of the games in 1928. The flame commemorates the legend of the theft of fire from the Greek god Zeus by Prometheus. So, with all that history and significance, what's on Beckham's mind?
"I hope it lights" he joked with reporters.