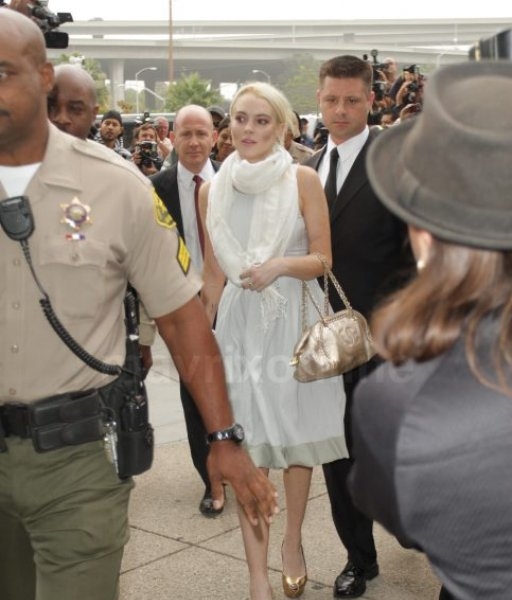 Lindsay Lohan Handcuffed And Sent Back To Jail, Again
It looks like repeat offender Lindsay Lohan is in hot water again with the penal system after reportedly failing to adhere to the conditions of her probation. She was handcuffed and taken to jail from court but made bail right afterwards.
Upon arrival at the Los Angeles Municipal Court to face Judge Stephanie Sautener, the starlet looked demure in a classy white dress and gold high heels, perhaps trying to impress the judge with her cleaned up image before discussing the terms of her probation and the possibility of it being revoked in the court room.
Reports indicate that Lohan had been kicked out of the community service center which the judge ordered her to complete after she'd failed to report to the community service center nine times.
Despite the fact that the Probation Department forgave Lohan for failing to appear and reassigning her to service with the Red Cross, Judge Saunter did not feel the same, terminating Lohan's Red Cross community service and reassigning her to a morgue.
This isn't the first time Lindsay's given the court trouble when it comes to the terms of her probation, including missing weekly in-person scheduled appointments with a psychiatrist due to trips overseas.
A hearing has been set for November 2, Lindsay could be facing as long as a year-and-a-half in jail.