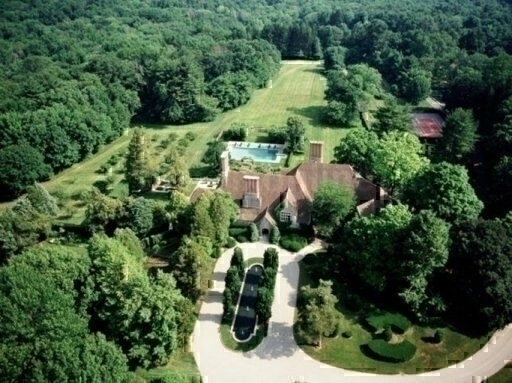 Mel Gibson's Former Old Mill Estate For Sale
It's reported that the historic 'Old Mill,' former Greenwich, CT home of Mel Gibson is now back on the market with an asking price of $33 million. According to the reports, the 1926 estate is 15,862 square feet, includes 15 bedrooms and 17 bathrooms and sits on 75.7 acres. The landmark is one of the last Great Estates of Greenwich and was designed by architect Charles Lewis Bowman for financier George Lewis Ohrstrom. The Elizabethan-inspired Tudor home is majestically picturesue and showcases museum-uality details including 17th-century English paneling. The home's great hall includes a 40-foot cathedral celining, walk-in fireplace and leaded glass windows. The grounds, designed by renowned landscape designer James Doyle, include formal gardens and a sculpted maze along with a terraced pool, tennis court, greenhouse, stable, staff houses, a log cabin and a stream-fed pond. Reports go on to say that Gibson purchased the home and later sold it in the summer of 2010 for $24 million. He initially listed the home at $39.5 million, but it sat for three years before he sold it at the reduced price.
Photos courtesy of Realtor.com.