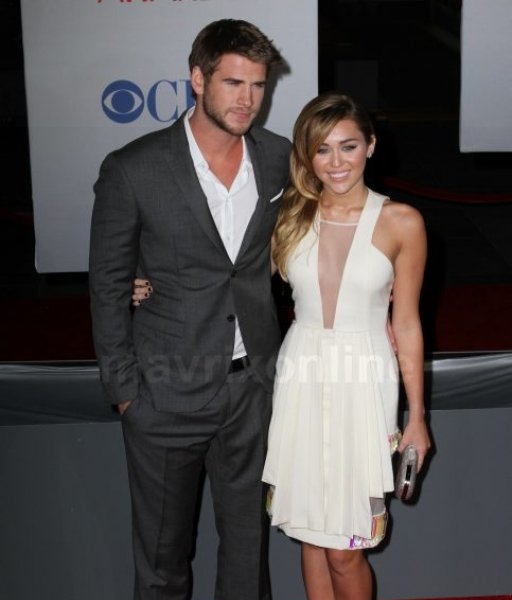 Miley Cyrus, Liam Hemsworth Come Out For 2012 People's Choice Awards In Los Angeles
It was a night where the public awarded their favorite stars, the 2012 People's Choice Awards, where the winners were chosen by the public with a a record-breaking 230+ million votes cast on PeoplesChoice.com.
"Big Bang" actress Kelly Cuoco hosted the awards show, which was held at the Nokia Theater in Los Angeles and shown on CBS.
This was the 38th year of the award show, which is voted entirely by the public, verifying the likes of music, movies and television by the fans themselves.
American crossover star Miley Cyrus attended the event with her boyfriend actor Liam Hemsworth. The handsome couple posed for photos together with Cyrus wearing a lovely cream gown with ruby colored pumps while Hemsworth opted to wear a suit without a tie giving the whole look a much more casual chic look.
Attendees included Kristen Bell, Nina Dobrev, Ginnifer Goodwin, Jennifer Morrison and Chloe Grace Moretz who was awarded with the "Favorite Movie Star Under 25" which made it's return to the ceremony this year.
The complete list of winners for PEOPLE'S CHOICE AWARDS 2012:
Favorite Movie
Harry Potter and the Deathly Hallows: Part 2
Favorite Movie Actor
Johnny Depp
Favorite Movie Actress
Emma Stone
Favorite Movie Icon
Morgan Freeman
Favorite Action Movie
Harry Potter and the Deathly Hallows: Part 2
Favorite Action Movie Star
Hugh Jackman
Favorite Drama Movie
Water for Elephants
Favorite Comedy Movie
Bridesmaids
Favorite Comedic Movie Actor
Adam Sandler
Favorite Comedic Movie Actress
Emma Stone
Favorite Movie Star Under 25
Chloe Grace Moretz
Favorite Ensemble Movie Cast
Harry Potter and the Deathly Hallows: Part 2
Favorite Animated Movie Voice
Johnny Depp as Rango
Favorite Superhero
Ryan Reynolds as Green Lantern
Favorite Book Adaptation
Harry Potter and the Deathly Hallows: Part 2
Favorite Network TV Drama
Supernatural
Favorite TV Drama Actor
Nathan Fillion
Favorite TV Drama Actress
Nina Dobrev
Favorite Cable TV Drama
Pretty Little Liars
Favorite Network TV Comedy
How I Met Your Mother
Favorite TV Comedy Actor
Neil Patrick Harris
Favorite TV Comedy Actress
Lea Michele
Favorite Cable TV Comedy
Hot In Cleveland
Favorite Competition Show
American Idol
Favorite TV Crime Drama
Castle
Favorite Sci Fi/Fantasy Show
Supernatural
Favorite Daytime TV Host
Ellen DeGeneres (The Ellen DeGeneres Show)
Favorite Late Night TV Host
Jimmy Fallon (Late Night with Jimmy Fallon)
Favorite TV Guest Star
Katy Perry (How I Met Your Mother)
Favorite CelebReality Star
Kim Kardashian
Favorite Male Artist
Bruno Mars
Favorite Female Artist
Katy Perry
Favorite Song of the Year
E.T. Katy Perry featuring Kanye West
Favorite Album of the Year
Born This Way Lady Gaga
Favorite Pop Artist
Demi Lovato
Favorite Hip Hop Artist
Eminem
Favorite R&B Artist
Rihanna
Favorite Band
Maroon 5
Favorite Country Artist
Taylor Swift
Favorite Music Video
Last Friday Night (T.G.I.F.) Katy Perry
Favorite Tour Headliner
Katy Perry