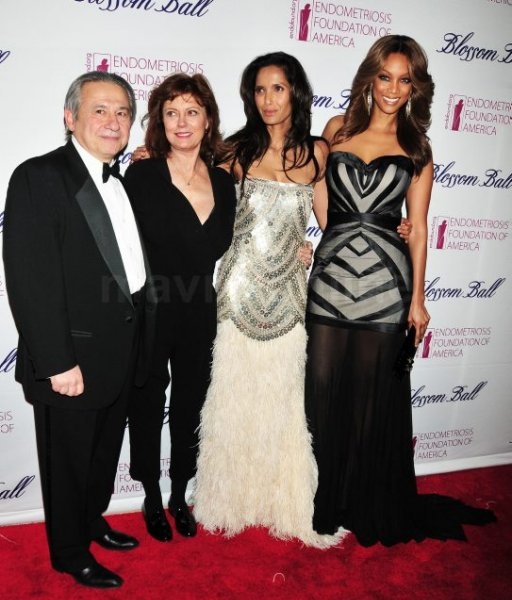 Tyra Banks, Padma Lakshmi Among The Best Dressed At New York Blossom Ball
Former models Tyra Banks & Padma Lakshmi and Oscar winning actress Susan Sarandon are among some of the best dressed at the Endometriosis Foundation of America's 4th Annual Blossom Ball held at The New York Public Library – Stephen A. Schwarzman Building.
The three ladies pose for photos with Dr. Tamer Seckin, while garnishing both money and support for the Endometriosis Foundation of America, a non-profit dedicated to bringing awareness to the devastating effects of the painful disease affecting 176 million women and adolescent girls around the globe.
Padma Lakshmi serves on the EFA Board Of Directors with Dr. Seckin, but managed to look less like a board member and more like a superstar while walking the red carpet. She wore a stunning, strapless gold sequin, floor length dress which accentuated her natural shape and beauty.
Likewise, Banks stuns in a sleek black ballgown but it was her Farah Fawcett inspired hairdo that had friends and fans talking but Sarandon keeps things simple in a black pantsuit and flats, keeping her focus on the event at hand.