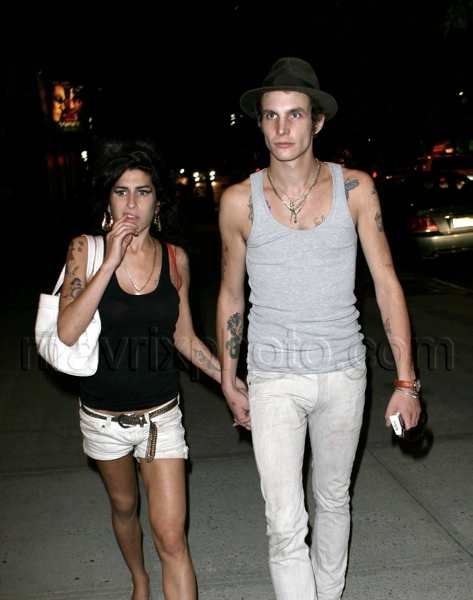 I'll Take "Quotes About Amy Winehouse That Will Make Me Barf" for $1,000, Alex
Oh, man. This one is a doozy.
If you believe the source that News of the World found, Amy Winehouse's marriage to Blake Fielder-Civil is going to be over fairly soon. Here's what she reportedly said on the matter:
"It's over. There's no way back for us now. It was never going to last. We were only together for sex. I fancied him like mad, like no one else I've ever known. But it's not enough, is it?"
Speaking of sex, did I mention that she's (reportedly) into threesomes and really kinky stuff that I don't want to think about? Because she totally is (again, reportedly). Here are some cringe-inducing quotes for a source close to Amy that will haunt your dreams for the next several months:
"Mostly it was Blake suggesting new things but Amy doesn't need encouragement. They were like animals, at it all the time. Just like they were with drugs, they pushed themselves to the limit.

They were into threesomes. It was Blake's idea but Amy said she'd been with women before so it wasn't a problem. She said she's had a string of female lovers. Whenever Blake said he wanted three-in-a-bed Amy would fix it.

They didn't care about sharing themselves with others because it turned them on. They thought they were on this sexual journey together. And the pair of them were into some real kinky stuff, not just the usual bondage and sex games but really gross stuff you couldn't mention in a newspaper.

Amy said that was the basis for their relationship. It was built on sex so when he went inside prison there was nothing for them to fall back on. She's not been to see Blake since he came out and she's had loads of opportunities.

Without their rampant sex life they've got nothing, it seems. Amy still cares about Blake and wants to help him through rehab but can't see any chance of them getting back together. They were bad for each other, each pushing the other to excess, whether drugs or sex. Plus he sponged off her. And she's awake to that now."
Now, if you'll please excuse me, I have to go hug my toilet for a while.