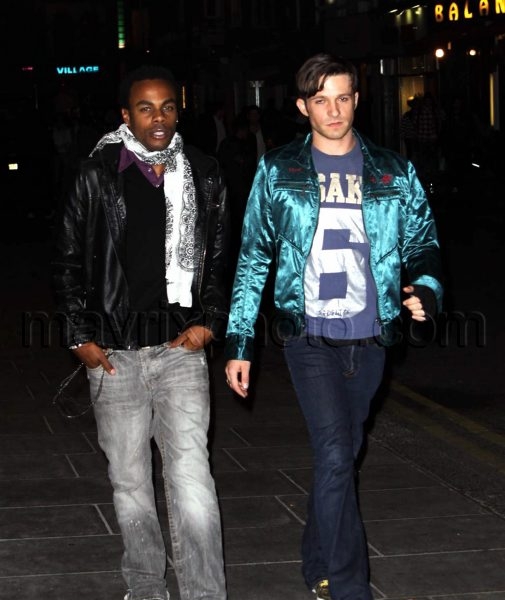 Jason Dottley Jump Starts My Heart
Nothing warms the cockles of my cold, dead heart quite like Jason Dottley. You know what's even better than snaps of J.D.? Exclusive shots of him. Oh hey, guess what I have?
Last night, Jason and his friend, T. Ashanti Mozelle, headed out for a crazy night on the town in London. Get this: the duo kicked off their evening at a sex shop, followed by bar hopping to several Soho gay bars for drinks.
By the end of the evening, the two were stumbling all over the place. At one point, Jason even had to stop and collect him self while holding onto a pole (HA! That's a double entendre if I ever saw one!). He even had to hover over a garbage can for a hot minute before he could make it back to his hotel.
Let me tell you what I love about his guy and his night out:
Jason Dottley is freaking hot. Yeah, he's as gay as the day is long, but that's never stopped me before. Since four of the guys I dated in college suddenly became gay after we broke up, I figure I can turn one gay guy straight for a night. The universe totally owes me one. (Note to Del Shores: You better keep an eye on your man, because I'm coming for him!)
They hit a sex shop before going out. Everyone should start their day/night this way. They're usually open 24/7, so you can even stop in for a little "pick me up" before work in the morning! Plus, on Tuesdays ladies get a 20% discount! (Don't ask me why, but it's like this at pretty much every sex store. Sex stores are kind of like Catholic masses that way — everyone all around the world gets the same deal on the same day.)
The way the night ended lets me know that these boys know how to party. HELL YES! The only thing that is missing from this photo set is a pic of one of them peeing in an alley on the way home — a move I perfected in '03.
His friend's name is T. Ashanti Mozelle. I repeat: T. Ashanti Mozelle. SWOON!!! I think I have a case of the vapors!!! This guy has the best name I've ever heard, which means that Harlow Winter just got bitch slapped out of the #1 spot. She'll have to chill out at #2, because T. Ashanti Mozelle takes the rhinestone-encrusted tiara on this one.
Dottley is in London promoting the series Sordid Lives, along with his new album of hit songs, including "Hit Play (Take Me Away)."