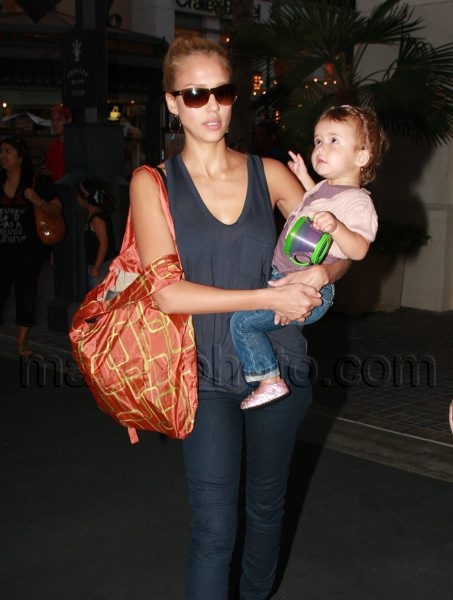 Jessica Alba and Honor Marie Have A Movie Date
Jessica Alba took her daughter to The Grove shopping center in Los Angeles yesterday, and the two ended up taking in a movie before going home. It always amazes me that some celebrities go to the movies with regular people — you'd think they'd be afraid of creating a mob scene or something.
That said, if I saw Jessica Alba at the movies looking the way she did yesterday, I don't think I'd recognize her AT ALL. She looks like an average, frazzled, mid-twenties mother. No makeup, diaper bag half falling off of her shoulder, baby in arm — just the kind of scene that makes me want to sew my uterus shut permanently!
In related news, how big is Honor getting? That kid looks like she's almost ready for kindergarten classes! Jessica dresses her really cute, too. Check out the cuffed pant legs, the pink shoes and the matching pink cardigan…tres adorable!