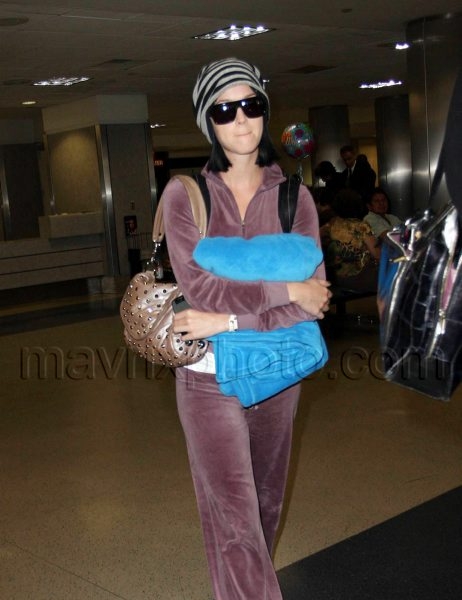 Katy Perry Must Really Like That Outfit…
…Because she's wearing the same one she wore the day before, but in a different color. Not that I'm one to judge, I wear sweatpants and tee shirts every day.
Perry is reportedly under the weather, as a doctor visited her at her Miami Beach hotel shortly before her show at the Fillmore last night. She later told fans
"I am forever indebted to you a proper show. My body has just shut down on itself… finally."
Perry's scheduled hometown show in Santa Barbara, CA tomorrow night has been rescheduled to August 30, due to the Jesusita Fire that continues to burn there. She said in a statement,
"What's most important right now is fighting the fires that threaten my hometown and saving Santa Barbara. naturally, I am very upset, but I understand the circumstances and am counting down the days when we can all be back at the Bowl to celebrate Santa Barbara and experience The Hello Katy Tour Grand Finale! My prayers are with you Santa Barbara."
Stay safe, Santa Barbara! Our thoughts are with you.