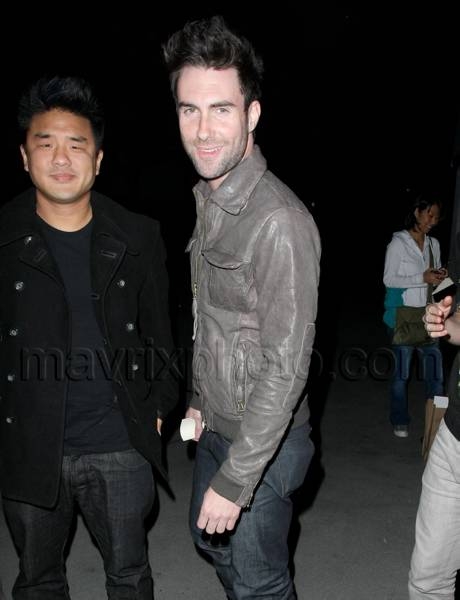 MavrixOnline Exclusive: Adam Levine
While I was chowing down Halls cough drops by the handful last night, Maroon 5 singer Adam Levine was at the Staples Center catching a Lakers game.
I'm still sick today, though I've got it down to an art form. I'm sitting in bed with a robe and my favorite pj's on, with a brandy snifter full of NyQuil on the bedside table. The fireplace is on, and Enya is playing lightly in the background. Having the flu has never felt so luxurious before! When I feel a little better, I plan on drinking a wine glass full of diet ginger ale. Okay, enough about me, let's talk about Adam.
When did his head get so friggin' big? He's got a big head on a skinny little body. He looks like Gumby, if you want me to be completely honest. His friend behind him thinks so, too. His eyes are telling me "yeah, I know, he looks like a white Gumby to me, too."
Maybe I should slow down on the NyQuil a little.