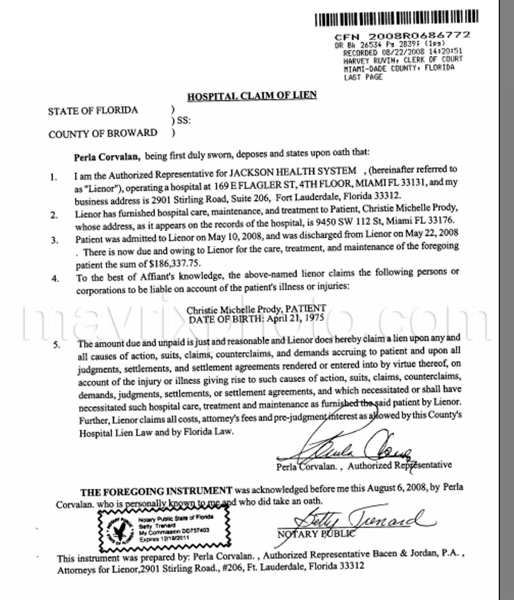 MavrixOnline Exclusive: OJ Simpson's Girlfriend Sued!
This is probably one of the biggest stories I've ever broken as a blogger, brought to you by the investigative team at MavrixOnline. Go us! Anyway, this is a long post, but it's definitely worth reading.
Christine Prody, OJ Simpson's longterm girlfriend when he went to jail, is being sued! The hospital that took care of her in May of this year after she was in a car accident and broke both of her legs has issued a Claim of Lien against her for $186,337.75. Apparently, she had no health insurance. That's not even the worst of it! Here are some details:
First of all, in February, Prody was hospitalized with a severe head injury after she "slipped and fell" at a Miami gas station.
Then in May, while living with OJ (according to her ID), Prody was reportedly injured on Don Shula expressway after she pulled over because she had two flat tires. Apparently, she had driven on for quite a distance, because one tire was totally shredded and the other had come off the rim. Prody got out of her car, tried to cross the highway and was hit by an oncoming vehicle. She landed inside the car with her legs sticking; her head and arms went through the windshield. Prody was cited by police for "being a pedestrian on an expressway."
An empty bottle of Smirnoff vodka was found on her front seat, but no DUI charges were filed because she wasn't at the wheel during the crash. Officers found her Shih Tzu in the abandoned vehicle after the crash, and it was taken to a shelter until her family could pick it up.
Here are a few more tidbits that you may not know about:
Prody has been named in numerous police reports in Miami-Dade County. They include Cannabis Possession ('06) and Animal Cruelty ('02), she was fined by the city of Miami and pled no contest after her cat was found dead from abandonment in her apartment.