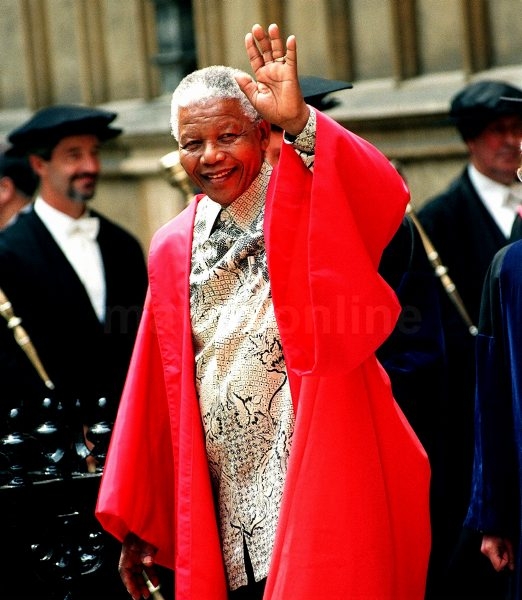 Nelson Mandela Dies at Age 95 and the World Mourns
Iconic South African anti-apartheid leader, Nelson Mandela, has died at the age of 95 and the world mourns. Mandela, who inspired millions around the world, passed away at his Johannesburg home surrounded by family and friends today. Prominent leaders worldwide echoed about the remarkable life Mandela lead and the legacy he left behind. South African president addressed the nation on live television announcing that Mandela, or Mandiba as he is known in the country, had died at the age of 95. "Let us conduct ourselves with the dignity and respect that Mandiba personified," said president Zuma.
Prince William and his wife, Kate, were attending the London premiere of "Mandela: Long Walk to Freedom" when the news of Mandela's passing broke. "We were just reminded of what an extraordinary and inspiring man Nelson Mandela was and my thoughts and prayers are with him and his family right now, " William said as they exited the film.
U.S. boxing legend Muhammad Ali recalls Mandela as a symbol of forgiveness who overcame racial injustice and inspired others to reach for what appeared to be impossible. "He made us realize, we are our brother's keeper and that our brothers come in all colors. What I will remember most about Mr. Mandela is that he was a man whose heart, soul and spirit could not be contained or restrained by racial and economic injustices, metal bars or burden of hate and revenge," Ali said.
Nelson Mandela inspired and challenged the world to stand up for others as he spent decades fighting for freedom and equality.
"Today the world lost one of the true giants of the past century. Nelson Mandela was a man of incomparable honor, unconquerable strength, and unyielding resolve – a saint to many, a hero to all who treasure liberty, freedom and the dignity of humankind. As we remember his triumphs, let us, in his memory, not just reflect on how far we've come, but on how far we have to go. Mandela may no longer be with us, but his journey continues on with me and with all of us," said actor Morgan Freeman, who portrayed Nelson Mandela in the 2009 film "Invectus."
Our thoughts and prayers to Nelson Mandela's family and friends as the world mourns his passing.