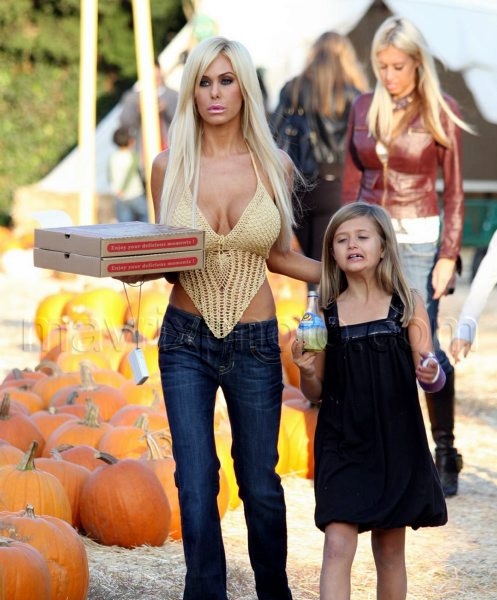 Shauna Sand is an Angel Among Us
It was all I could do not to choke on Shauna Sand's glamor, beauty and elegance when I saw these pictures of her and her family at the pumpkin patch in L.A. yesterday. The cleavage, the midriff, the butt crack-baring jeans…I'm surprised she didn't grow wings and fly up to heaven right on the spot.
After spending quite some time looking at pumpkins, Shauna decided that none of them were up to her standards and left. Of course, she didn't go empty handed. No, she left carrying a couple of pizzas — no doubt to feed the hungry on her way home.
AAAAAH! UPDATE: APPARENTLY, SHAUNA SAND HAS A SEXTAPE!!! It was just reported that Shauna has a sex tape that's coming out, and she's desperately trying to stop it. Word on the street is that Vivid is releasing it, and you can see the (DEFINITELY NSFW…and maybe life in general) trailer for the vid here.