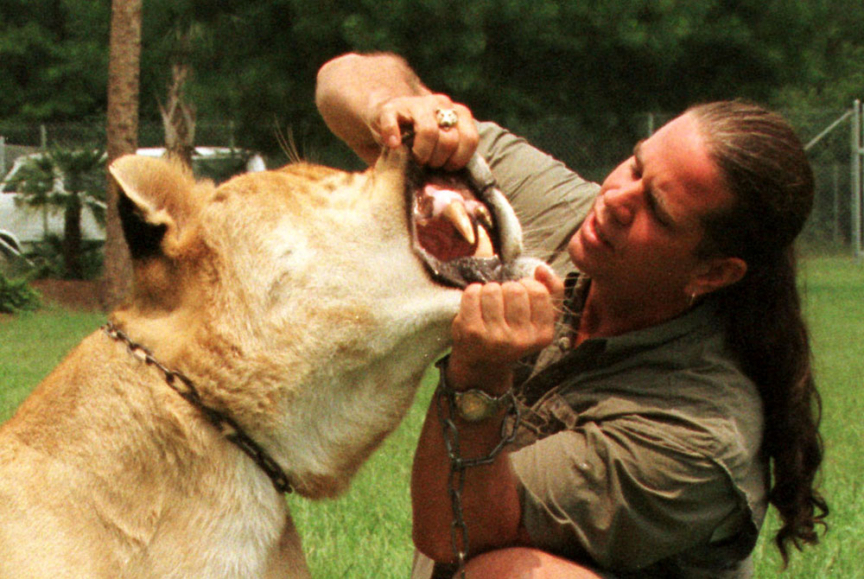 Tiger King Liger King : Inside Doc Antle's World
The popular Netflix series Tiger King deals with three US exotic animal handlers including Tiger King Liger King, Bhagavan Doc Antle. These exclusive images from 1999 show Doc Antle with his animals, and some of his female handlers who pose with the big cats. In some shots they pose with a half ton Liger which stands 12ft tall on his hind legs and lives with Antle at his South Carolina reserve. Doc Antle' s animals perform in shows, movies and adverts.
In 2001, Antle was on stage with Britney Spears during her performance of the "I'm a Slave 4 U" single at the 2001 MTV Video Music Awards, which featured a caged tiger and a large albino python draped over Spears' shoulders.
Antle has other ties to the film industry, having worked as an animal handler on films such as Dr. Dolittle and Ace Ventura: Pet Detective. He has appeared on late-night talk shows and also provided animals for movies including The War, Rudyard Kipling's The Jungle Book, Ace Ventura: When Nature Calls, Mighty Joe Young, and The Jungle Book 2.
Doc credits his great love for wild and exotic animals to his upbringing on a vast cattle ranch in Arizona where he spent his formative years. From a very young age, Doc began raising and caring for every animal that he could get his hands on. As a young man he also had the opportunity to travel and explore the world and spent a significant amount of time in Asia where he received a doctorate degree in medicine.
Today, Tiger King Liger King Antle is widely recognized as one of the foremost animal trainers in the world, having worked with thousands of animals and having traveled the globe promoting the research, education, and conservation of some of our planet's rarest and most endangered species.
All licensing enquiries to sales@mavrixphoto.com