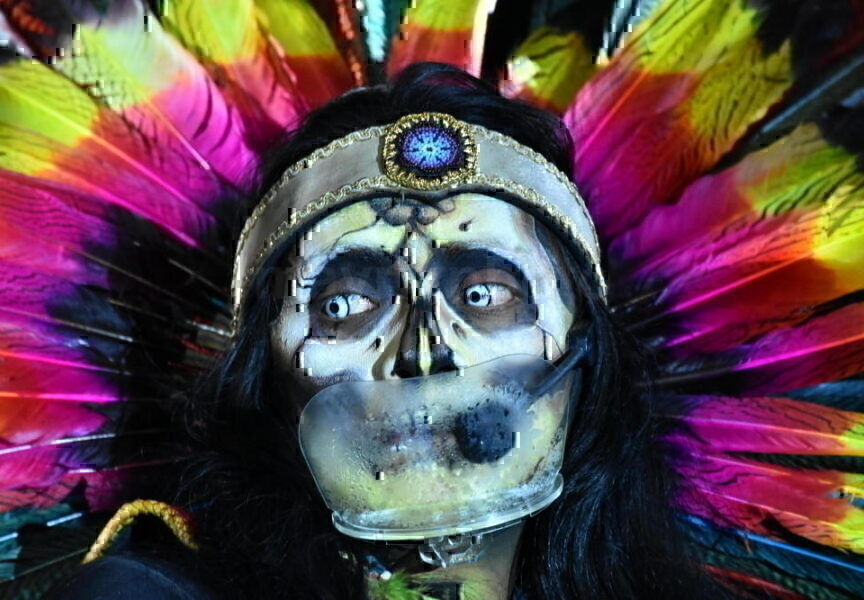 Warming Up To Día De Muertos 2020
Día De Muertos 2020 is a National holiday celebrated in Mexico and elsewhere and is associated with the Catholic celebrations of All Saints' Day and All Souls' Day.
COVID 19 has had a serious effect on the 2020 celebrations, with masks being integrated into the traditional costumes and face paintings, and poverty and unemployment widespread.
But still, in Copandaro, farmers harvest the Red Velvet Celosia, which were planted in mid-June to be harvested by the end of October, when it reaches maturity and is ready for distribution in the markets. Red velvet Celosia is one of the most representative plants in Mexico. It is widely used on the day of the dead to decorate offerings and often photographed by the best Mexican photo journalists.
Girls pose with skull face make-up to celebrate still, but the tradition of children asking for sweets from door to door, has been suspended in 2020 as precautionary to avoid new cases due to Covid.
Monumental cardboard skulls can be seen on the eve of the festival. Craftsman Raymundo Medina, exhibits cardboard skulls at Santa Cecilia neighborhood, as part of his project 'Cocolitztli Coviddiztli', which symbolises the origin of the pandemic in China, a Global crisis with more than 1 million deaths from SARS Cov-2. Although massive events have been canceled to celebrate the Day of the Dead due to the Coronavirus, Raymundo Medina wanted to continue with the Mexican tradition of the Day of the Dead, with his Exhibition of Skulls.
Día De Muertos 2020 goes on no matter what, and performances such as La Llorona still occur at Xochimilco River. The Llorona is a Mexican legend of the soul of a woman who drowned her children, she appears near rivers and cities to terrify the inhabitants. The legend originated in 1521, before the conquest of the Spanish.
Enjoy this free photo gallery of the best Mexico photo-journalism, and we wish all our readers the best Halloween possible, and that 2021 will bring a better one for everyone!!
All licensing enquiries to sales@mavrixphoto.com