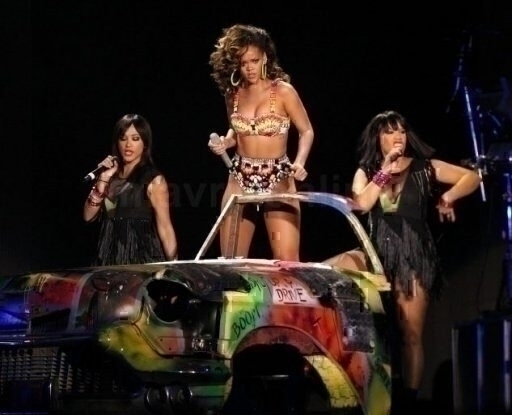 Rihanna Performs At London's Famed O2 Arena In Lovely Island Wear After Making Music History
Leave it to Rihanna to find the tiniest possible costume to wear on stage and completely rock it.  This is exactly what the 23-year-old Bajan beauty did at London's famed O2 Arena when she performed there wearing a Caribbean inspired bikini on stage.
Additionally, while in the city to perform it was announced that Rihanna broke Madonna's record of 20 top ten hits in the fastest amount of time when her new single "We Found Love" climbed to 9th place on the Billboard Top 100.
And Rihanna beat Madonna by 5 months, a feat even icons like Britney Spears and Christina Aguilera weren't capable of doing, solidifying her as a force in pop music.
Madonna still has the most overall career top ten hits with 37, but at this rate, Rihanna just might give Madge a run for her money.
Despite her success, Riri showed she no Diva by taking a public train across London to perform, wonder how many other stars left the limo behind to do that…. um I am guessing none!