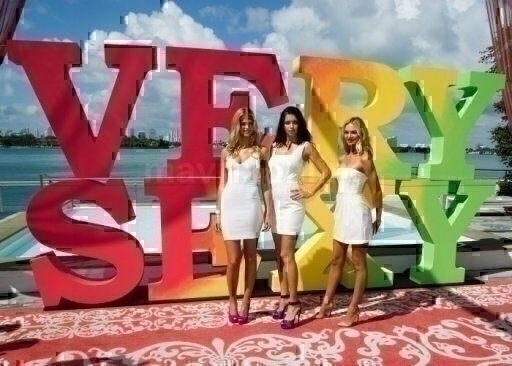 Victoria's Secret Models Kick Off Very Sexy Jet Tour In South Beach
The faces of alluring and sexy, Victoria's Secret models Erin Heatherton, Candice Swanepoel, and Adriana Lima united at the luxurious Mondrian South Beach to kick off the Very Sexy Jet Tour.
All three supermodels stunned in white dresses in various cuts, which flattered their famous figures and made them pop against the brightly colored Very Sexy background.
The lovely ladies of Victoria's Secrets were on hand to help launch unveil incredible new styles and shapes of their #1 Push-Up Bra, which they will do in multiple cities on the Very Sexy Jet Tour.
The best selling Very Sexy collection now includes the Very Sexy Touch fragrance, which consumers can find online and at Victoria's Secret retail stores.