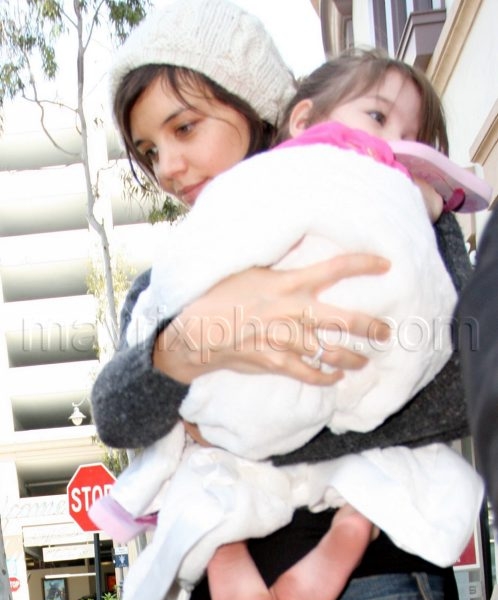 Katie Holmes Needs A Babysitter
Katie Holmes needs to find herself a babysitter, because I'm tired of seeing pictures of her doing mundane things with Suri. Maybe if she didn't have the kid to cart around, she'd be doing really interesting things for the photographers, like cartwheels and backflips down the sidewalk. Instead, she hit The Grove shopping center in LA today while (surprise!) carrying Suri. Can't the kid walk yet?
Actually, I have a confession to make: the only reason I'm suggesting that she hire a sitter is because I want the job. I've always had a thing for Tom (it even intensified during that whole couch jumping business — I hate boring guys, and Tom Cruise is definitely the antithesis of dull), and sometimes Hollywood types hook up with their nannies. I could name examples, but I won't…but I will say that Tiger Woods' wife was a nanny when he met her — and look at all the cash she's rolling around in right now. Her car is probably made out of platinum, and I want that.
You know how chinchillas take dust baths? I want to bathe like that too, but in diamonds. And I feel like Tom Cruise is the easiest way to that kind of lifestyle. Now that I think of it, that's probably why Katie carries Suri the way that she does…so she'll have an extra set of eyes in the back of her head, to make it harder for me to steal her man.