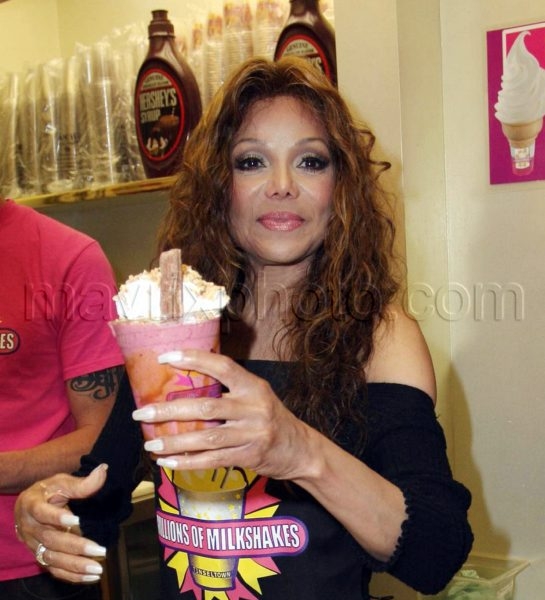 LaToya Jackson at Millions of Milkshakes
What is going on at Millions of Milkshakes and why is it becoming the go-to place for a little extra publicity? Lindsay Lohan, Ciara, Kim Kardashian, Miley Cyrus and now LaToya? Either the owners are super connected to Hollywood insiders or their milkshakes are amazing. LaToya made her own shake for the menu, which features strawberries, raspberries and caramel, then topped with whipped cream and a Cadbury flake. Um, yum?
She's doing it for a good cause, though. Through the sale of her concotion, LaToya and Millions of Milkshakes are hoping to raise $1 million for AIDS research. Can't hate on that! Here's what she said about her latest venture:
"I'm very excited for this promotion and hope we can raise a million dollars for APLA and/or aids research. It is very generous of Millions of Milkshakes to support our goal by donating proceeds from the store to such a great cause. I am very thankful to them!"
As a special promotion, LaToya will be serving the milkshakes herself on Halloween night. HALLOWEEN?! Do I even need to make a joke, or does it make itself? Since she's being charitable, I'll keep it to myself and only say something nice: way to help out a good cause, LaToya!