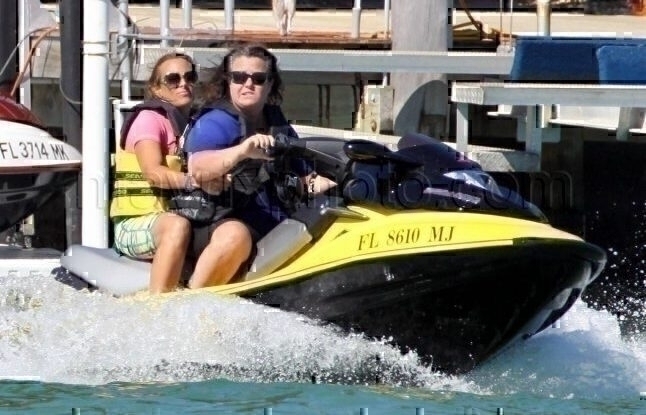 Rosie's new girlfriend revealed?
A little while ago, we brought you these exclusive pictures of Rosie O'Donnell and a new mystery lady friend riding jet skis around Miami Beach. Now, it's being reported that the mystery woman is Tracy Kachtick-Anders — and the two of them are an item! Are the rumors true? Rosie didn't exactly deny them on her blog — this was taken from her Ask Ro section:
hmmm Writes:

i must admit, it's kinda weird to see u w/ someone else (besides kelli)… but i'm happy for u if u are happy!

i am happy

Joanne Writes:

I can't get your radio show so I miss alot. You have a gf? Good for you! I figured those were her legs in tub picture:-)

🙂

Lori Writes:

I know who that is it is the lovely lesbian artist with many children who asked you if you would like to trade art i remember that ? on this site much happiness for you Ro

smart girl – lori
Apparently, Tracy is a painter, doula, and foster mother of six children. She's also the founder and director of the non-profit Open Arms Foundation, which recruits foster and adoptive families from the LGBT community. She certainly sounds like somebody who'd be right up Rosie's alley!