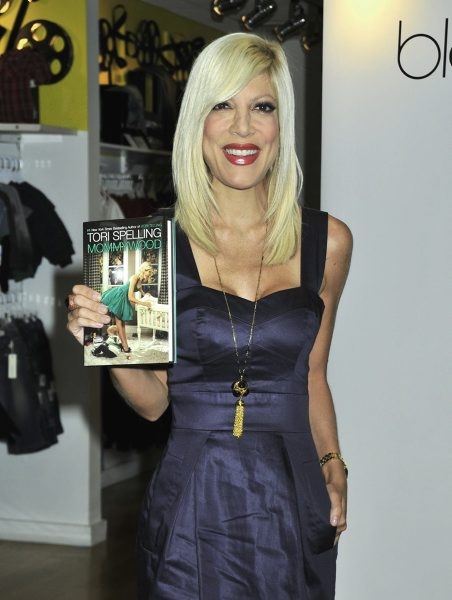 Tori Spelling Promotes Her Clothing Line
I was kind of wondering what Tori Spelling was doing at Fashion Week, and now I know. I had completely forgotten that she has her own kid's clothing line (really, doesn't everyone these days?). It's called Little Maven, and from what I've seen of it, it's all pretty cute stuff. While she was at Bloomingdale's promoting her latest venture last night, she killed two birds with one stone and signed copies of her bestselling book, Mommywood.
Here's what I want to know: when did little old Tori Spelling become such a media mogul? Aaron Spelling totally screwed her out of his will after his death, and while her mom does nothing but leak stories to the press, Tori's developed her own little empire! For years, people said that her dad gave her every break she ever had, but it seems to me that she's only gotten bigger since branching out on her own.
You really have to admire that kind of personal success. It seems like I can't go anywhere without seeing Tori's face and name plastered all over the place. Her books are in all of the major retailers, she's got that reality show with her hot-ass husband and the paparazzi/gossip rags love her. Without saying a word, she's totally showing Candy Spelling who's boss and I love it. Good for her.
Now, if only she'd remember to iron her dresses before going out, she'd be good to go. With all that money coming in, you'd think she'd invest in a bottle of Downy Wrinkle Release!